I've been using my IotaWatt but I've just noticed a couple of issues with the numbers.
The first is general accuracy - We've just had a smart meter installed which can report the live voltage and current. The voltage reported by the IotaWatt seems to be spot on (Within a couple of hundred millivolts) but the over-all power seems to be off by about 20%. What is the expected accuracy?
The smart meter was reading about 240V and 2.2A which should be around 530W, but the IotaWatt was reporting around 400W. (UK / Single phase) The over-all power usage seems to be in the right ballpark though, so is it just an issue with smaller values?
My second issue is around calculations and trying to work out the current - I need the current as I'm trying to work out my maximum demand in order to notify the DNO about a heat pump install.
A picture is a thousand words, so here are some pictures of the configuration and the values. (Some are combined in an odd way due to how the buildings are wired, but Mains is exactly what you'd expect - Just a single CT on the incoming supply right after the meter.)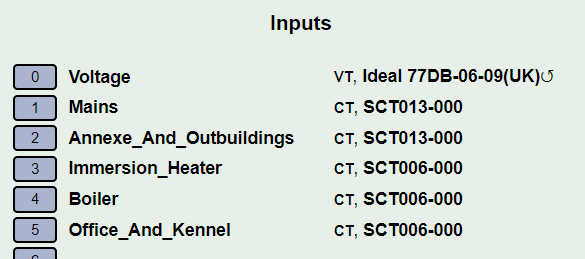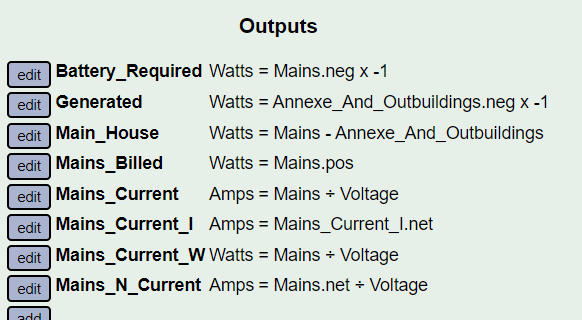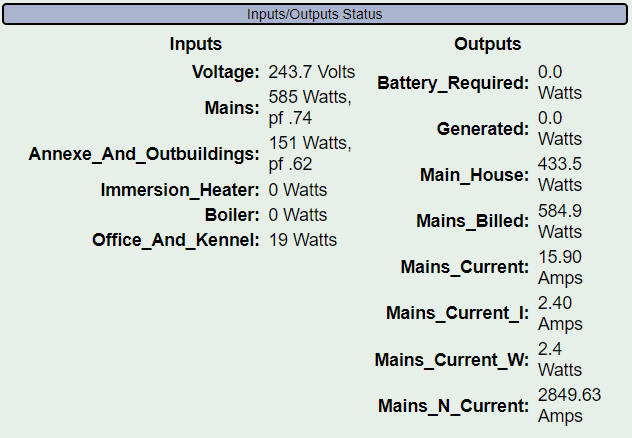 As you can see, I created a load of current outputs and even an integrator when I realised I was getting some weird values. You'll notice that just changing the output type between Watts and Amps for Mains_Current and Mains_Current_W results in a wildly different value for the same calculation. Mains_Current_W and Mains_Current_I look to be correct, but both have incorrect units set. (Mains_Current_I is based on a Wh integrator)
Am I missing something with these calculations?