Hi!
We have really high electric bills and would like to understand which circuits the excess is coming from, as well as monitor things going forward. That said, the electrical set up is a little complicated so I wanted to ask the experts before I purchased all the CTs

.
What I know for sure:
240V from the street, plus we have a generator as backup for when the power fails.
We have 2 main panels, and a sub panel for the pool (I don't care to monitor specifics on this, usage from the main panel is fine).
Panel 1: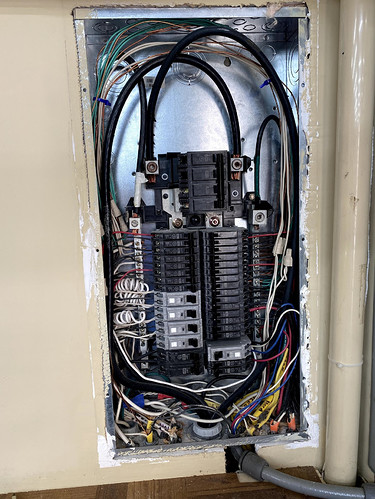 For this one we want to measure:
The main: 4 200A breakers up top are throwing me a bit for a loop, does that mean we would need 2 400A CTs or is it the standard 200?
the hot tub (bottom left, double 50s, but it doesn't look like it has a neutral) < so I believe I could get away with one 50A CT and choose the double option?
2 sets of AC both on 30A breakers, also doesn't look like neutral so same as above I believe
Oven - 2 sets of 20A breakers no neutral, so would need 1 50A CT
a few individual circuits that would simply need 1 50A CT each
Panel 2: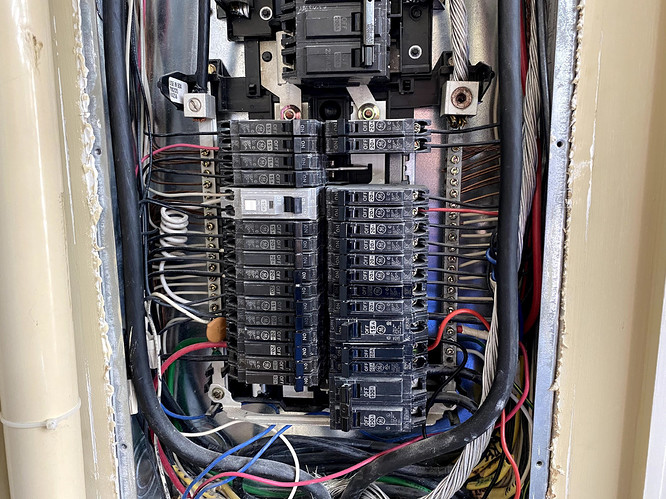 For this one we want to measure:
The main: 4 200A breakers up top (I assume same as the answer for the other panel
One individual circuit that would need a 50A CT
The Pool subpanel connection on the bottom right. This one I am unsure if I would need 2 100A CTs or I could get away with just 1 (I don't think the neutral is connected there?)
Last, is there a limit to the number of the high powered CTs I can have in a single IoTaWatt? Would I need to have two just because it is two breakers or could I keep it to 1 as long as I have 14 or less CTs?
Thank you!!!
Edit: Happy to provide additional pictures if it will help