Negative and incorrect values in 3 phase measurements
Hey I have used iotawatt for 3 phase measurements of my house using derived method.
I have attached pic how I clamped CTs (yhdc sct-013 100 A/ 50mA) to each phase. Here Input 1 is phase A, input 2 is phase B and Input 3 is phase C.
There is 1 hp motor connected to input 1 beside other lighting and fan loads. input 1 showing 456 watts without motor when I switch on motor it jumps to around 840 watts. (I was expecting 456 + 746 = 1202 watts)
Moreover, there is also another 1 hp motor connected to input 2 beside other common loads. so without motor it was around -650 to -700 watts at that time and when I switch on the motor it jumps to -108 watts ( I am not getting this).
I don't know what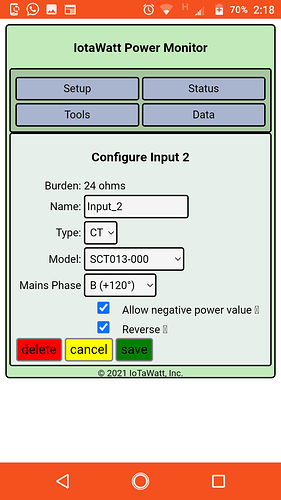 wrong I have done.I have clamped all CTs in same orientation.
I have checked Allow negative power, reverse checkboxes.