I recently set up an IoTaWatt as a way to track solar generation in my home (In the USA, with 240v split-phase L1-L2-N). I have one 6kW inverter attached to the main feed going between my utility meter and my main panel (with a pair of inline taps). I have a 7kW inverter attached to a subpanel off my main panel with a 50A double pole breaker. Input 1 and Input 2 on the IoTaWatt are around the main feed between the meter and the main panel. Input 2 and Input 3 are around the L1 and L2 going to the subpanel.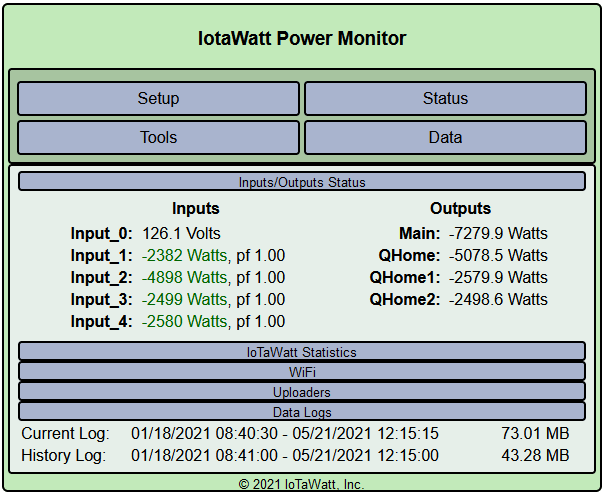 The output labeled "Main" in that screenshot is simply Input 1 + Input 2 in Watts. Input 1, 2, 3, and 4 are all set to allow negative values.
When this screenshot was taken, one inverter was generating 5,147W and the other was generating 4,669W. Am I correct in assuming that the CTs around the main panel feed should be seeing -5,147 + -4669 - the home load? The average load for this home is around 500W, with some peaks up to 1500W if someone turns on a microwave or toaster oven. I expected to see the value of "Main" to be closer to -9,300W. One of the inverters also has CTs around the main panel feed, and it shows around -9,050W. Am I missing something that would cause the value to be about 2,000W less than expected?
Thank you!