I've got a pretty complicated electric setup at my house and I'm trying to figure out if buying a bunch of IoTaWatts might solve my needs. The root problem is that my house is using far, far too much power and I don't know which devices are responsible. My plan is to brute-force it by trying to monitor everything.
The problem starts with the sheer number of panels I've got. I've got a residential 400 amp service panel that's fed by a total of 6 aluminum wires that look like 2- or 4-AWG each. There are two wires for each of the input phases plus neutral. It looks like this under the hood: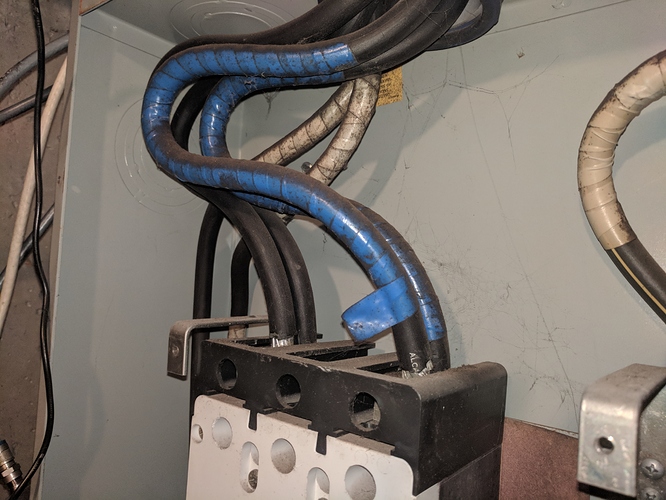 From that panel, there's a 200 amp circuit going to a neighboring sub-panel, and a 100 amp circuit for another sub-panel in the garage. I might (for now) just monitor that garage sub-panel without bothering to put another device there to monitor the circuits individually, but I do want to measure most of the circuits in both of those two side-by-side main panels. Each of those panels is using roughly 22 positions each.
The good news about those two panels for me is that there are a bunch of the circuits I don't necessarily care about monitoring individually because I expect them to have no draw ever. My plan is to use some headphone splitters to capture two (or more?) circuits on one channel.
First question: Has anyone every used a many-way splitter like this one to join several clamps onto one channel? I'd probably be looking to monitor several 15- or 20-amp circuits where I only really care to know if there's any current draw at all. If there is I can investigate manually. Are there any electric loss implications for splitting the signal so many ways?
Second question: I read in this topic that there were some 400 amp clamps available by special order. What sort of wire(s) will those clamps fit around? I don't know if it's normal for 400 amp main breakers to be fed by as many wires as mine is, and it's not exactly an easy sort of scenario to describe into the forum's search engine…
Two-point-five question: Where/how would special order those 400 amp clamps?
Third question: Are there any clamps that are rated for less than 50 amps? If not, is there any problem putting a 50 amp clamp on a circuit that's never going to draw that much? I've mostly got 15- and 20-amp circuits I want to monitor.