Hey!
I am just setting up my IoTaWatt for the first time and have started getting some data, and it seems a little weird to me, so I thought I would ask the experts.
Background: US 2-Phase power, 4 Temperature Zones in our house (I am only monitoring half right now. Gas Furnaces, and the thermostats are powered by the furnace. All zones are set specifically to "Heat".
Looking at the usage, the 2 heaters are using power as I would expect. Our bedroom A/C is using 0 as I would expect, but the Main Floor A/C is using ~46 W consistently. (always between 42-48). Is it normal that an A/C unit would be pulling that much power all of the time, even when "off"?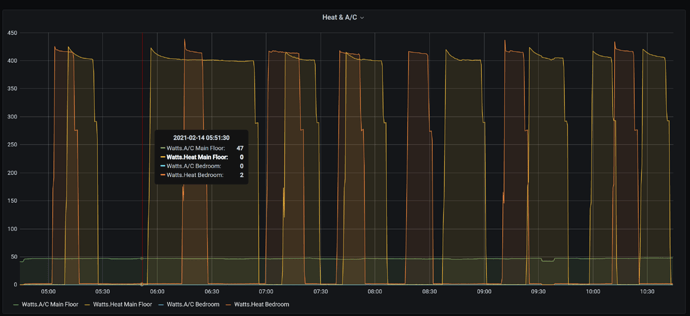 I guess I just don't know if this is normal or not! Thanks!