Hello,
I am in a new home in Canada on a split phase system for about a year and I am ready to purchase IoTaWatt.
My setup:
400A service
400A Industrial Duty Switch (IDS) to a Generac panel (for a future gas generator backup).
Generac panel to a distribution panel. The distribution panel is a bit crowded.

From the distribution panel to a bunch of Service Entrance/Disconnect Switches (DS).
I would like to just monitor the mains on these switches for now. They're all in the same electrical section of my mechanical room and they would be easier to work with.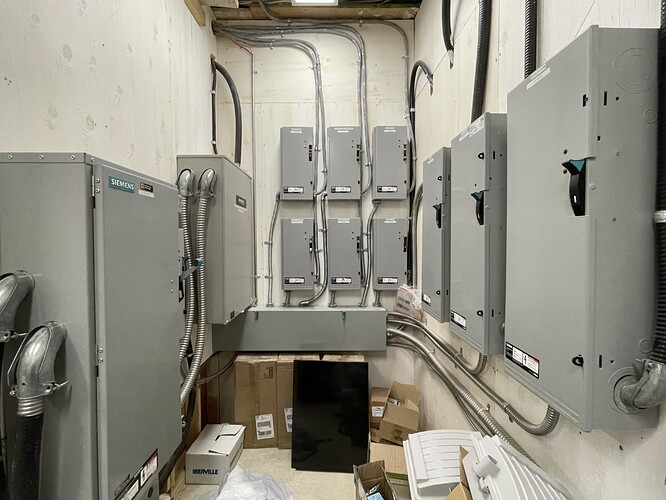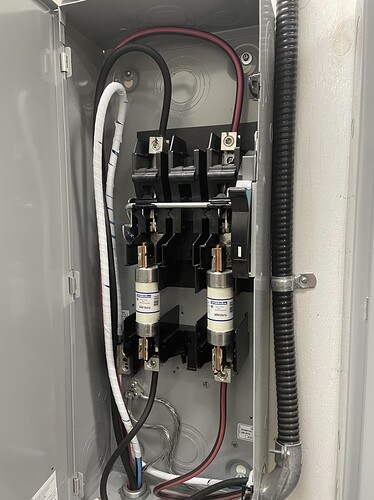 Service Entrance/Disconnect Switches:
100A mobile home (*)
100A garage unit (*)
200A garage (*)
125A top floor (**)
125A main floor (**)
200A basement (**)
80A DS (***)
80A DS (***)
100A DS (***)
100A DS (***)
100A DS (***)
My priorities would be to monitor(*), then (**), then (***) at the panels themselves.
In addition, I also have a couple specific requirements to monitor individual breakers:
geothermal unit/ground source heat pump (40A double pole)
septic pump (15A double pole)
septic fan (15A single pole)
I will likely expand on individual breakers in the future once I get my initial monitoring in place and play with the system for a while.
Based on my priorities above, does the following order list look correct?
1x IoTaWatt 120V Kit with AccuCT 200A x 25mm split-core x 2 (the 2 CT's for the IDS to monitor overall draw)
2x 100A CT for 100A DS (mobile home)
2x 100A CT for 100A DS (garage unit)
2x 200A CT for 200A DS (garage)
2x 200A CT for 125A DS (top floor)
2x 200A CT for 125A DS (main floor)
2x 200A CT for 200A DS (basement)
2x 50A CT for 40A double pole (geothermal)
2x 50A CT for 15A double pole (septic pump)
1x 50A CT for 15A single pole (septic fan)
Now that I am looking at that list, I probably need 2 kits, wouldn't I?.. I could put a kit at the basement panel which happens to be in the same room. I could use the second kit to monitor the mains at the basement panel and for the geothermal/septic pump/septic fan with room for more (?)