Hi,
I'm in Brisbane, Australia and I was after advice on what to order (and anything else related really).
We're having a 6.66kW solar system installed on the 19th of January (Fronius Primo 5kW inverter with Fronius Smart Meter) and I'm keen to get a better understanding of our (excessive) power usage.
Here's what our power box looks like: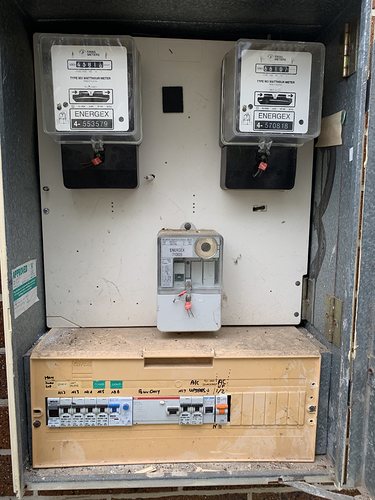 I'm a fairly technical user but my knowledge regarding mains power is limited. I've made the assumption that I should order 1 x 100A CT and 13 x 50A CTs (with the cost of shipping being what it is I thought I might as well get some spares).
Does this make sense?
Also, which shipping method would you recommend if I wanted some confidence that the items would get here before the 19th? Of course I also have to source the power supplies locally.
I just want to get the ball rolling ASAP so that I don't need to pay electricians to come out more than necessary (it costs a LOT here).
It just occurred to me that the inverter will be mounted inside the garage directly behind where the power box is mounted outside. Could the IoTaWatt also be mounted inside with all the CT cables routed in a conduit also? This might remove the need for weatherproofing for the unit and the two power bricks,
Thanks in advance for your advice.
Regards,
Michal