Hello! I am interested in getting an IoTaWatt, but wanted to confirm if I will be able to do the installation before I proceed.
I am a software engineer, so am technical, but inexperienced with regard to electrical jargon and functionality, so I apologise in advance for the basic questions.
The electrical board in my house (installed in a cupboard in the foyer) is pictured below, with the base cover on and removed: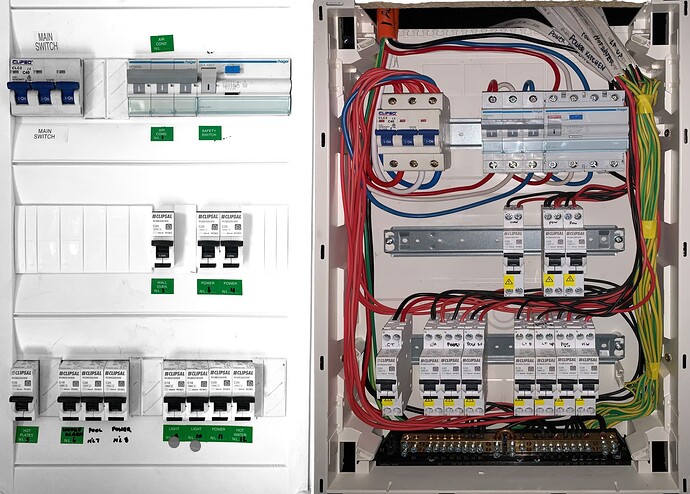 If I understand correctly, I would be able to monitor everything by getting 14 50amp CTs? I have 3phase coming in and 12 circuits but one looks like it's dedicated to smoke alarms, which I wouldn't monitor.
Most of the photos I've seen of people's power boards and CT setups are US based, where the breakers are horizontal and the cables nicely separate with space for CTs. But my board is as shown. So in my case, can 14 CTs be attached correctly at all? With enough space between them? My understanding is that the CTs shouldn't be in immediate proximity to each other (touching) due to possible interference. I have seen the setups of a few Aussies on this forum as well but they seem to have their powerboards externally to the house, and with very different form factors!?
I know the most elegant/easiest solution would be to get an electrician in to redo/extend the whole board, but costs would be high and I dont want to go down that road. With the board being what it is, could I setup the IoTaWatt successfully or not? If so, I would appreciate a bit of guidance (perhaps marked on the photo) of how one would go about attaching the CTs?
Additionally - if I were to get solar installed one day, does anything get added/changed to this board? I presume not. And that I wouldn't be able to monitor solar using the IoTaWatt since the solar inverter would be installed outside and away from this unit? What would be my best option in that case?
Thanks.