I have setup the iotaWatt energy monitor as per the getting started guide, all good so far. It works and shows up in the Home Assistant integration. 9VAC reading on 220VAC supply calibrated with -calibrated- FLUKE, the AC Adaptor is on Main_B (Phase A) using derived 3ph option.
But…
My SolarEdge API gives me an indication of the generated power from the PV system on the roof. On a 'normal' day in WA (West Australia) that would produce about 5 - 5.5 kW. However, when reading power indication from the CT's they indicate about 700 - 800W each, totalling around 2.1 - 2.4 kW on average?
Something similar applies to the calculated consumption as the Home assistant -mistakenly- assumes that solar-production - main export = main consumption which -certainly in my case- is nowhere near the truth. Domestic use is on average very low and even if I test it with everything of it still makes an erroneous calculation for Domestics power use.
So, following summary for setup: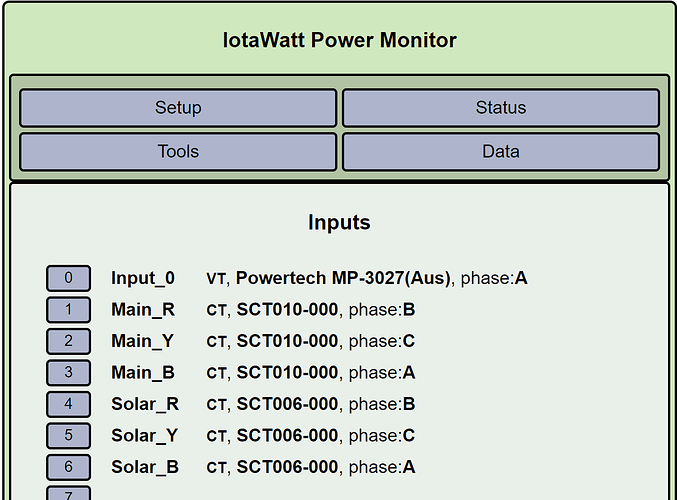 There seems to be a disconnect between what the SolarEdge API says my production is and what I can read form the IotatWatt interface (about -3 kW difference) that is in both directions i.e.;
the reading on Solar Power in is lower @ 2 - 2.2 kW
also Main Export is lower, @ about 0.8 - 1.0 kW (about 200 - 250 W/channel)
From a usage estimation on domestic use would be < 500W where most power sockets are only connected to 1ph (very odd, but hey welcome to OZ) AC's are on different phase but not in use.
What could be the cause of the relatively large discrepancy between SolarEdge reported power and indicated power on IotaWatt? As both 3ph channels seem to report low Wattage.
Main Export = about 1/3 - 1/4 of SolarProduction (i.e. prod=700W/channel exp=200W/channel)
Implies domestic use = 2/3 - 3/4 of solarproduction when it is -for sure- nowhere near that…?
The SolarEdge inverter automatically switches of when power generation sinks below 500W, yet the CT's still give about 15W readout? Can I calibrate that?
Early morning readout when SolarEdge is still off: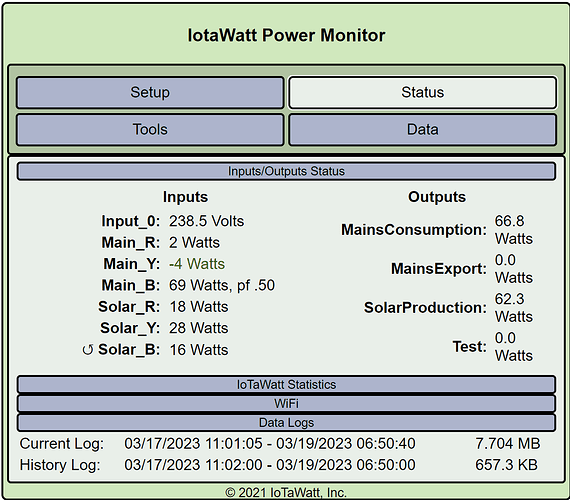 (the reverse indicator on B-ph fluctuates sometimes)
One additional question, is there a way to set a threshold value for the Wattage?
I.e. if SolarPower reading on a channel is < 15W report 0W?
I can't seem to make that work using the Output functions?