So the main question - when does it make sense to double up and combine CT's using a headphone splitter, instead of using two inputs? Based on my readings seems to be an # of inputs thing, and needing a slightly larger CT, any other downsides?
The other Q, is for those combined stove & dryer - the breaker rating is likely optimistic on what it will actually pull (gas stove, electric oven), so would 50's be ok, or should they be 100's?
My setup:
Standard north american 120/240 panel 100a. Mains wires are just under 11mm in diameter. Panel is a max of 125a, and 30 circuits so it will be a little tight I'm expecting with a full complement of CT's in there.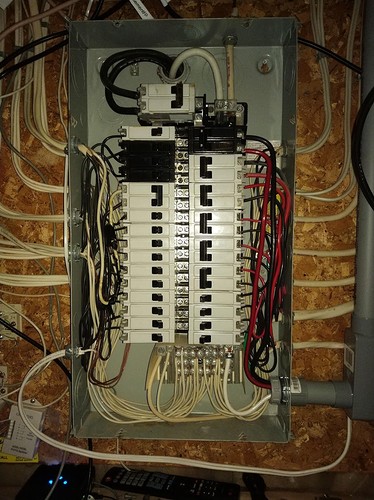 The main things I would like to measure:
Breaker size / #CT needed / CT size / desc
100a / 2 / 100 / mains, two inputs?
2x50a / 2 / 100 / 3 wire, hot tub, combined to one input
2x40a / 2 / 50? / 3 wire, stove, combined to one input
2x40a / 2 / 50? / 3 wire, dryer, combined to one input
2x30a / 1 / 50 / 2 wire, a/c
15a / 1 / 50 / 6 other standard 120/15a circuits - thinking that they'll be fridge, dw, office (with pc's), furnace, washing machine, pc server
Which will put me at 12 inputs being used (with 4x100, 11x50 CT's, does that make sense?
Thanks,
Cliff