Hi,
I have my own board up and running (schematic 100% Iotawatt V5 clone).
Before installation I tryed some measurements in my workshop under constant conditions (Germany 230V).
I put 3pcs SCT013 100A/1V + 1pcs SCT013 20A/1V + 1pcs HWCT-004 on a "test-line" with a 2kW heater. I have no burdens for the SCT013 installed but one 20Ohm for the HWCT-004. Further I measured the current with my Fluke 77 multimeter an a cheap clamp-on current meter.
The Fluke says 8.35A the cheap clamp-on says 8.5A
The 5 CT gave me values between 8.7A and 8.85A.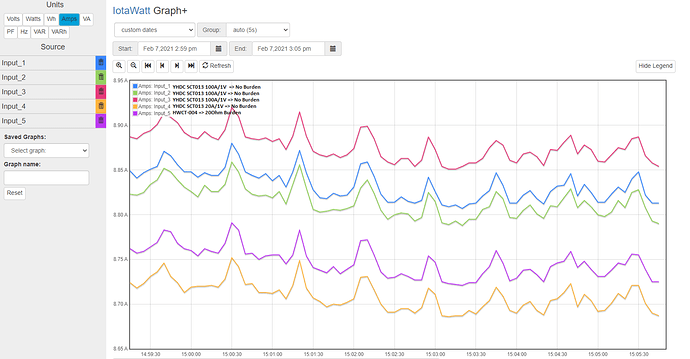 Due to the fact, that I dont know if the Fluke is accurate I will try to get another one the netxt days to verify the measurement.
2 Questions:
If I can confirm, that the Fluke is correct, is it possible to "calibrate" the entire Iotawatt current measurement, so that I can go down the ~400mA? Or is this just the possible accuracy and I dont have to worry?

Is it possible to calibrate the single CTs so that say come closer to the same value? On the SCT013 I can manipulate the "calibration-value" at the Input-configuration, but would this be a good way to change the 100A/1A from Calibration 100 to lets say 98 and so on ?? Or will this bring faulty measurements on other currents, temperatures, etc?
And what would be the way to calibrate the HWCT? I dont have a Calib. value at the config page because it is pre configured.
Or am I just to squeamish and my readings are as good as they can be?
thanks in advance and best regards.
stay healthy