New user here and trying to get an understanding on CT orientation. In reading the CT Basics docs it appears that for North America split phase the CT's on the main legs need to be orientated differently. Is this correct? That is the way I have them installed and compared to another energy monitor that IoTaWatt is replacing the reporting seems accurate.
In the attached photo please note the different orientation of the CT's for additional circuits.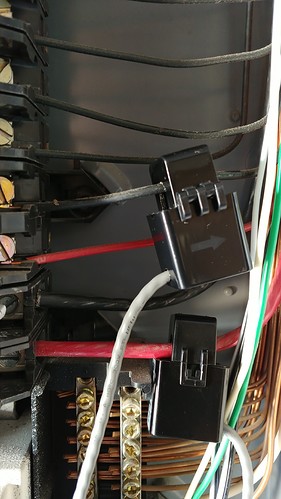 These are and both configured as a AcuCT-H040-50 with double checked. The both appear to report correctly as compared to other sources. The one on top is orientated with the arrow pointing to the load side which is a 20 amp pool pump circuit. However, the one on the bottom is orientated with the arrow pointing to the source or line side and is a 40 amp air handler circuit. I originally had this CT with the arrow pointed to the load side but the app showed the reverse icon. I know I could have fixed it with the reverse toggle but I instead just reversed the CT.
My question is why do these exact same CT clamps on the same phase have to be reversed in orientation?