I know many of you are using EmonCMS with your IoTaWatt units. I have been running it along side this great product for nearly 8-months and love the combination and flexibility. I did have one item that might be a quick fix that I'm simply missing which I could not find details here or on the EmonCMS site. It seems that the Import and Export are relative to the home's usage and not based on totals. For example, if the home has used 6.69kwh at a given time and we have consumed 6.26 (grid consumption) the remainder (0.43) is from solar generation. As the day progresses the consumption goes negative instead of actual consumption usage.
Bob did have some details on the initial grid/solar setup here: Setting up solar in Emoncms
Desire: I would like to have totals simular to what is found with PVOutput (love the simple implementation Bob, thank you), one can see a total of both import (grid) and export (solar) in kWh each day. Neither of the two import/export correlate to one another as with my EmonCMS setup.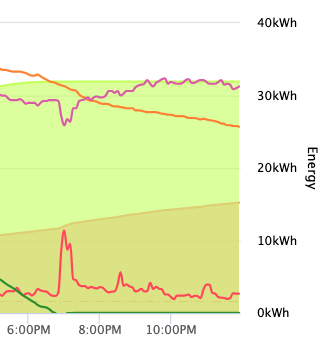 In the above sample, I can clearly see that I imported from the grid for the day ~16kWhs and my solar generation was about 31 kWhs.
Current State: With my EmonCMS setup, the import (grid) daily kWh value begins to decreases as I export to the grid (neg. watts) from my solar. For example, my home uses about 4-6 (winter) kWh from midnight to the start of solar generation. When exporting starts as the sun rises, my total daily kWh importing begins to go down and on good days goes negative; exporting more than importing.
Desired State: Have a total of both import (grid) and export (solar) allowing me to calculate total home consumption, etc.
From my EmonCMS dashboard: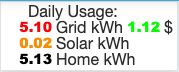 I can watch the Grid kWh and decrease as I export more power to the grid. On a good day, this may be around -20 or -30 along with a negative grid cost.
My current setup looks like this:
Mains 1:


Mains 2:



Sorry for the long explanation for what my be a simple fix, but it is often hard to explain without pictures and use case info. Always willing to learn from those who have gone before and found a solution.