Hello everyone!
I'm looking for advice on what I need to buy for a new system.
This is a residential home in the US
On the outside of the house, I have a main breaker for 200A. It's a "double wide" breaker, it is my understanding that this means I have 240V split phase service with 2x 100A. Is this correct?
What is a good way to measure the diameter of the wires to ensure they fit in a 16mm CT? Or is there perhaps someone who's able to tell "from experience" by looking at the picture?
This is what my panel looks like with incoming mains: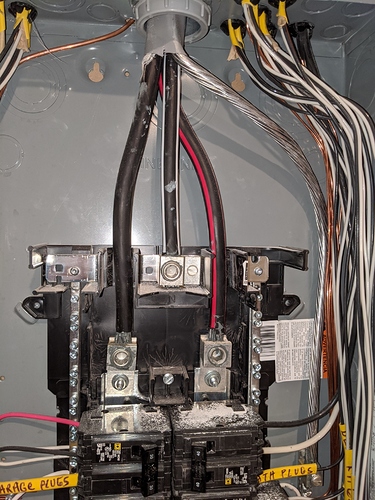 In order to monitor overall consumption, I would need
2x 100A CT, one for each phase (black+black with red stripes)
1x Reference Transformer (if I install one of the 100A CT in reverse)
This is my complete panel: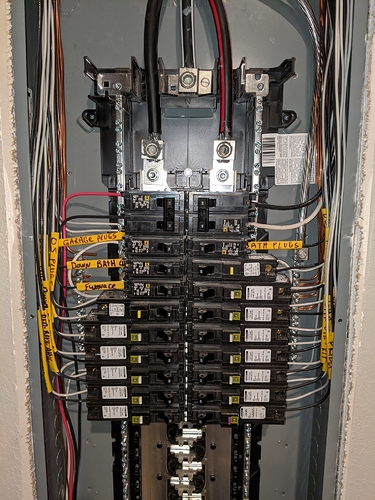 Except for the dryer (30A, top left) and A/C compressor (40A, top right), everything is 20A single phase (this is not completely true as I also have an extra 50A breaker for my induction range that's coming in directly from the outside box because it was installed after the fact – I understand that I will be completely blind towards it if I only monitor the distribution panel in my garage, but for now, I don't want to install anything on the outside of the building).
It is my understanding that I can simply install 1x 50A CT to monitor any of the 20A single phase circuits
What do I need to monitor the 40A two-phase A/C circuit? Can I loop both wires (black+grey) through 1x 50A CT? From the looks of it, it would be difficult to reverse one of the wires if needed. Is it the same for the 30A two-phase dryer circuit (red+black wires)? Or do I need a separate CT for each wire?
Regarding CTs, is there a difference between the ECS and AccuCT models, is one of them preferable for anything or are they essentially identical?
Completely unrelated to IoTaWatt, but maybe someone can educate me:
I have two phases @ 120V each (left and right mains coming in; black + black with red stripes)
There is one (common?) neutral (middle mains wire coming in; black with white stripes) that doesn't seem to be connected to anything
There is an exposed large-diameter stranded wire coming in (aluminum?) – is this my grounding?
This is my first house in North America, I grew up with 230/400V three-phase electricity in Europe and it's confusing