I'm looking for advice on the most practical way to setup an IoTaWatt in my home, with the basic issue coming down to if I should purchase one IoTaWatt or two, based my reading strongly leaning towards one with a fair # of CT's for the circuits. I've read the advice on large number of breakers here and I think that I'm good with one but wanted to run the configuration by the community. In summary, I have:
Circuit Box: Siemens I-T-E Indoor Load Center - 200A
40 Circuits Total

10 2 Circuit switches of various AMPs
30 1 Circuit switches that are either 15A or 20A
I have some specific questions and then the sample layout and equipment images below.
240V Circuits - can all of them be measured using a single CT?
a. Which is easier to wire up? Multiple CT's or multiple circuits in one CT? Any rules of thumb? on how many you can cover with a single CT?
b. Any way I can tell if they are two or three wire without opening the circuit box?
Do I have anything in my loads below that I should break out to monitor individually?
I have one breaker marked "Ground Fault Circuit" - is there any good reason to look @ this? Can't imagine one but …
All advice greatly appreciated, I'm looking to order early next week
First, here's my box: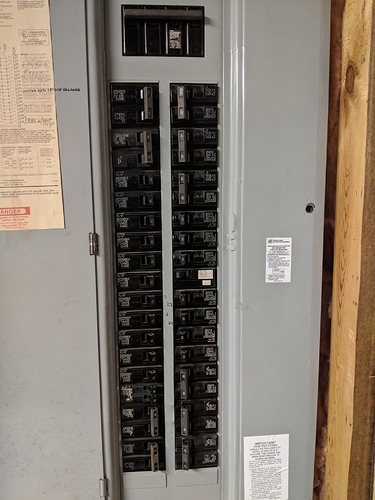 Load I want to Monitor (specific circuits in sub bullet):
Water Heater
a. Water Heater (2x30AMP)
Heat Pump
a. Heat Pump Main (2x50AMP)
b. Heat Pump Other (1x20AMP)
Dehumidifier
a. Basement: Unfinished Bathroom + Hall Outlet with Dehumidifier (1x30AMP, split 15/15)
Air Handlers
a. Air Handling w/ Heat Strips

#1

(2x30AMP)
b. Air Handling w/ Heat Strips

#2

(2x60AMP)
Washer & Dryer
a. Dryer (2x30AMP)
b. Washer (1x20AMP)
Kitchen
a. Range (2x30AMP)
b. Kitchen: Outlet for Microwave (1x15AMP)
c. Oven (2x30AMP)
d. Refrigerator (1x20AMP)
Well Pump
a. Well Pump (2x20AMP)
Upstairs Misc/Plugs
a. Upstairs Bath (1x15AMP)
b. Upstairs Bed Room

#3

(1x15AMP)
c. Upstairs Bedrooms

#1

&

#2

(1x15AMP)
d. Upstairs Stairwell (1x15AMP)
Basement Misc/Plugs
a. Basement Light (1x15AMP)
b. Basement Heat - we don't use (2x30AMP)
Main Floor Misc/Plugs
a. Mudroom and Front Bathroom (1x15AMP)
b. Master Bedroom & Closet (1x15AMP)
c. Mudroom North Side (1x15AMP)
d. Kitchen Above Island & On Outdoor Wall (1x15AMP)
e. Living Room + Squigly Lights in Kitchen (1x15AMP)
f. Kitchen reciept (1x20AMP)
g. Master Tub Jacuzzi - Indoor (1x20AMP)
h. Master Bath + Office Valence in Dining Room (1x15AMP)
i. Dining Room Lights & Outlets (1x15AMP)
Circuits I'm not sure about
Unknown: (2x30AMP) - might drop this, not sure if there's anything on the circuit
Ground Fault Circuit (1x20AMP) - see question above
Notes on Circuit Box