Less than a week with an IoTaWatt, and trying to figure things out…
I'm driving myself crazy with a calculation for an output called everything_else which is the two main phases minus all the monitored circuits.
Steady state, everything_else seemed to be about 50 W. OK, not too bad for parasitic draws from various stuff in low-power mode around the whole house.
To sanity check that, I just turned off all circuits in the house that aren't monitored by CTs, and now I get… ~ -25 W. Huh whut?
OK, let me turn on a big draw and see what happens, so I kick on the air conditioner, and now everything_else jumps to ~ +82 W. And, after the compressor shuts off, but before the air handler does, everything_else jumps to ~300 W for ~30 seconds.
Before I go totally crazy, am I running into an accuracy limit of the CTs, or some electrical phenomena (power factor?) or have I installed or configured something incorrectly, so far?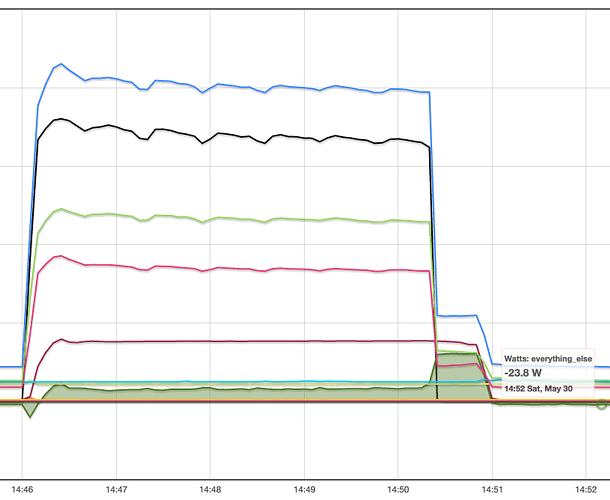 Argh…forgot to screen capture the legend; if it helps:
blue = total
black = AC compressor
green = phase A
red = phase B
red/brown = AC air handler
green fill = everything_else
vertical divisions are 500 W (total hovers around 2 kW)