My influxDB instance on a local Rpi has been running flawlessly. I've had three IoTaWatt posting to it for more than a week (plus a week worth of history) and all is well.
So now I've started to get familiar with using grafana to produce some visualizations. First I setup a free personal hosted account at grafana labs. I linked it to my influx data base, and for the past day or so have been working through their excellent documentation to explore the capabilities.
Here's what I have so far: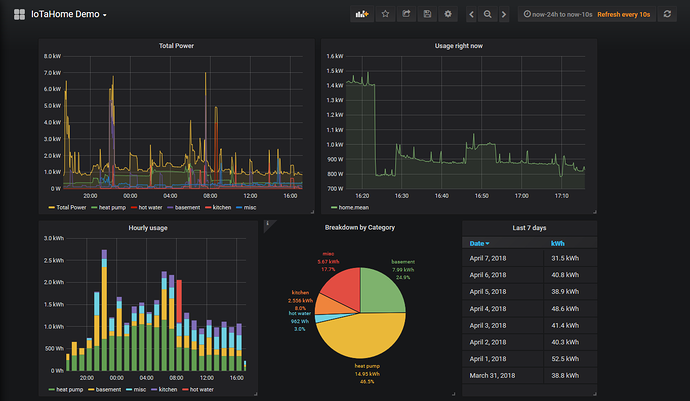 I've played with overlayed line graphs, real time usage, stacked usage, pie chart breakdown, and tables of daily usage. The "last 7 days" has a time override to lock that in, as does the "usage right now" to keep the window of the last hour, but all of the other graphics are driven off the range menu in the upper right dropdown:

You can see that there are a lot of choices there, and a custom setting so if you want to know how much power your air conditioner used the last week of august, you can just click the calendars in the custom range.
Response is quick, especially given that the influx data is uploaded as just watts every ten seconds and there's a lot of integrating to get kWh. In fact it's so fast that I suspect they are storing the values time weighted like the IoTaWatt so that the integrals can be calculated without actually reading all those data points.
This is the direction I intend to pursue for general web support of IoTaWatt. Haven't decided whether to put together a Rpi home kit or make a hosted server available, or both. I'll be working on some standardized naming conventions and packaged dashboards over the next couple of weeks.
Soon I'll get a solar user uploading to influx and develop a custom dashboard for that.