I purchased my Iotawatt system about 6 weeks ago and installed with no issues. I am in the US with a 120/240 split phase system. I have recently been integrating and testing a PV + Battery Inverter system which I am monitoring with this system. I have placed CTs on the AC input/output from the inverter and on the input to the panel (backfeed). The graph shows a negative value coming out from the inverter (supposed to, but not working as expected) and the other value is the power input to the panel. I expect there to be minor variations between the two readings, but I am getting very weird and unexpected readings.
I placed a clamp on multi-meter adjacent to one of the CTs to measure what was occurring. I measured a very consistent amperage and frequency on the conductor. The variance was no grater than 0.3A during the test and Frequency varied from 59.99 to 60.00. However the iotawatt shows large fluctuations in the current flow, power factor, and even flow direction.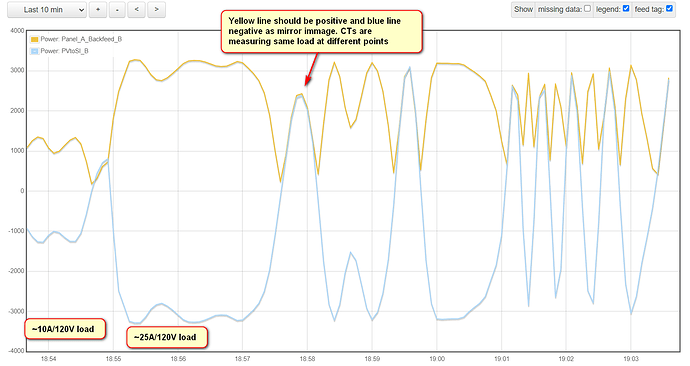 The screen shot above shows the major fluctuations in the graph. During this same period switching over to the status screen these readings are varying from ~+3000w to zero to negative and back to positive and power factor is dropping from 0.98 down to very low (I saw numbers as low as 0.07) these numbers were rapidly changing during this process.
The CTs hooked up to the panel fed from the Utility power measures as expected with similar types of loads. This seems to be related specifically to the inverter supplied power. Power is from a pair of SMA Sunny Island 5048 hybrid inverters (one per phase). This was screen captured when the accompanying PV inverters were not producing any power, but I have seen similar results when power is being fed from the PV inverters Sunny Boy SB6000-US. These inverters are AC coupled and the backfeed to the panel in question is fed from a common panel that contains the SB PV inverter input and the SI Inverter Input/output.
Thanks in advance for any guidance.