Hello,
Just wondering if anyone would share their grafana dashboards. I have tried emoncms and I like it, but the dashboards are not as cusomizable as I would like. So i have stumbled upon influxdb2 and grafana, it is a huge learning curve for me, especially flux language. Just looking for dashboard ideas and if anyone has any flux query examples please post!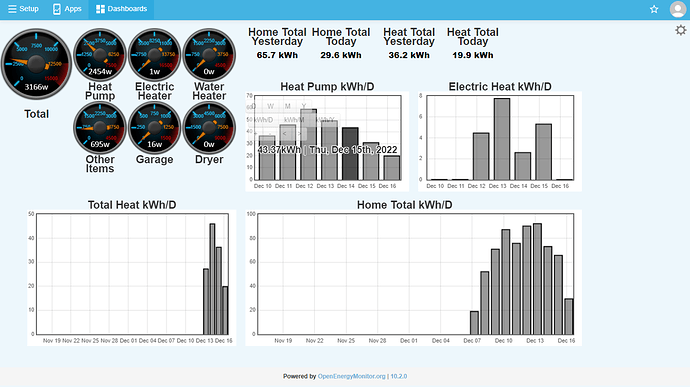 i like emoncms just wish i could customize a bit more.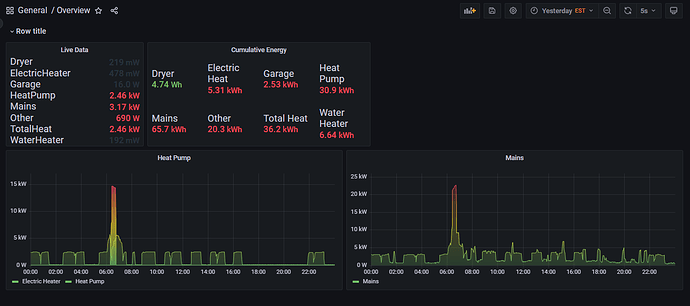 i like grafana a lot more. so many more options.
The heat pump graph has my built in electric heater overlayed, so i can see when that is coming on at the same time (the big 15kw spike). The two graphs and Cumulative energy part change depending on what time frame is selected at the top. Live data always stays live regardless of time frame chosen.
My graphs are focused on heat pump because I just got one installed and want to monitor how much it costs for heating. Going from an old oil furnace was a big change for me. Especially being in a cold climate. If anyone has dashboards in grafana please post pics and flux queries. I am not very creative and looking for ideas. Thank you!
Edit: if anyone is wondering what the heat pump is doing during the large spike, its because my thermostat goes from 68F to 70F. If its too cold out for the heat pump to get up to temp quick enough it supplements with the electric heat. I will be changing this and come up to temp more gradually to minimize the amount of time my electric heat will come on