I am trying to figure out the right selection (types and amount) of CTs to buy with a European bundle.
This is a photo of the inside my box: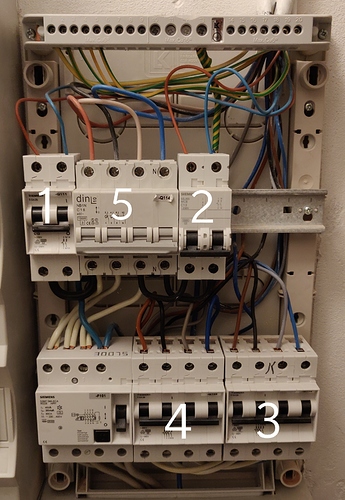 The box is in Denmark and I plan on having the CTs and the Iotawatt installed by a certified electrician.
The photo shows:
Two 230 volt groups for 13A (numbered "1" & "2").
&
Three 400 volt groups. The one numbered "3" has a "Max. 13" label on the cover. The one numbered "4" has a "Max. 16" label on the cover. Finally the one numbered "5" has two "Max. 13" labels on the cover. That last mentioned group numbered "5" is by the way going to the garage in where there is a local box.
Finally the buttom left corner is the mains coming in to the HPFI switch.
From what I figure I need 9 CTs for the 400 volt groups (3 for each of them since they are three fased) and 2 for the 230 volt groups (1 for each since they are single fased). And finally I guess I should have three CTs for the three fased mains?
Is this correct and can anyone help me figuring out the right CT versions to buy?