While I have been capturing data for a while, I haven't done much with it other than look at real time info and manually pyrolyse ovens, trigger a legionella cycle on the heat pump etc.
Inspired by a recent post by @overeasy showing total power by month I thought I would look at whether I was 'winning' or 'losing' on exported power.
As background, my installation doesn't have an export meter. The scheme I am on assumes that 50% of what I generate will be exported and pays me 50% of whatever the generation meter says at the export rate. So if I am using 90% of what I generate I am 'winning', if I use 10% then I am 'losing' .
Using 'last month' and plotting AllExport and AllGeneration with an hourly interval gives Export of 220
kWh and Generation of 775 kWh (I'm a winner (at least for March))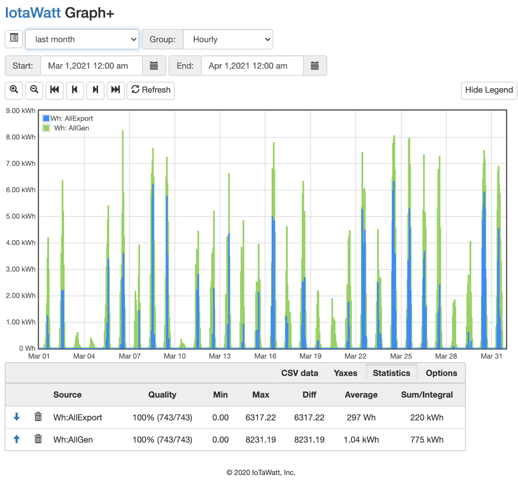 However changing the interval from hourly to daily eliminates the export figure entirely and reduces the integral of the generation by 2kWh.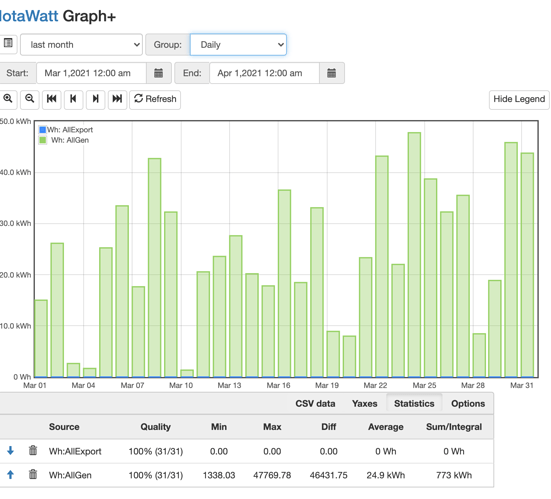 What is causing this - is it something to do with the way Graph+ samples data?
Is there an easy solution to get total generated/exported for a period or should I be querying the data in InfluxDb for this sort of info?
Thanks.