Hello,
I have looked at all the forum posts on code 400 and have yet to find a fix.
I am not using a tag in my uploader, only measurements. I changed the upload history to different dates with no result. I have restarted the uploader multiple times, restarted the iotawatt, and my influx database.
There are many other services that are currently uploading to different databases without an issue.
Attached are the pertinent screenshots.
I do hope this is enough.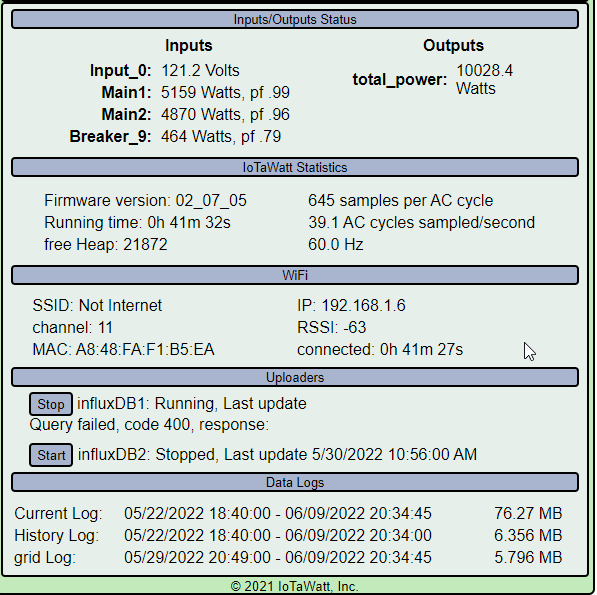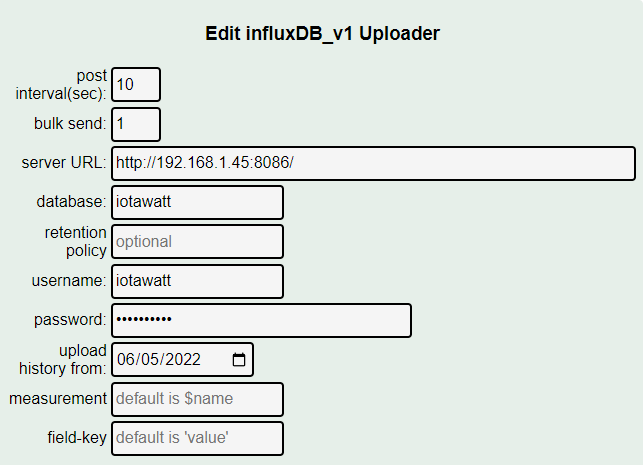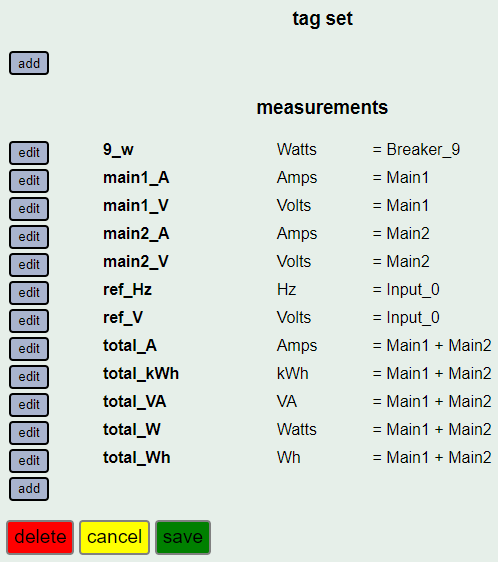 ** Restart **

SD initialized.
6/07/22 18:16:02z Real Time Clock is running. Unix time 1654625762 
6/07/22 18:16:02z Reset reason: Software/System restart
6/07/22 18:16:02z Trace:  1:6[2], 1:6[2], 1:6[3], 1:5[19], 1:6[4], 1:6[6], 1:1[1], 1:2[2], 9:0[2], 9:0, 9:1, 8:4, 8:6, 8:8, 8:9, 9:3, 9:5, 9:9, 1:2, 1:3, 1:3, 1:6[1], 1:6[2], 1:6[2], 1:6[2], 1:6[3], 1:5[21], 1:6[4], 21:0, 21:1, 21:10, 21:10
6/07/22 18:16:02z ESP8266 ID: 15840746, RTC PCF8523 (68)
6/07/22 18:16:02z IoTaWatt 5.0, Firmware version 02_07_05
6/07/22 18:16:02z SPIFFS mounted.
6/07/22 13:16:02 Local time zone: -6:00, using DST/BST when in effect.
6/07/22 13:16:02 device name: IotaWatt
6/07/22 13:16:02 HTTP server started
6/07/22 13:16:02 influxDB_v1: Starting, interval:10, url:http://192.168.1.45:8086
6/07/22 13:16:02 influxDB_v2: Starting, interval:10, url:http://192.168.1.45:8087
6/07/22 13:16:02 timeSync: service started.
6/07/22 13:16:02 statService: started.
6/07/22 13:16:02 dataLog: service started.
6/07/22 13:16:02 dataLog: Last log entry 06/07/22 13:16:00
6/07/22 13:16:02 historyLog: service started.
6/07/22 13:16:02 historyLog: Last log entry 06/07/22 13:16:00
6/07/22 13:16:07 grid: Started
6/07/22 13:16:07 grid: Last log entry 06/07/22 13:16:00
6/07/22 13:16:55 WiFi connected. SSID=Not Internet, IP=192.168.1.6, channel=9, RSSI -90db
6/07/22 13:16:55 MDNS responder started for hostname IotaWatt
6/07/22 13:16:55 LLMNR responder started for hostname IotaWatt
6/07/22 13:16:55 Updater: service started. Auto-update class is MINOR
6/07/22 13:16:59 influxDB_v2: stopped, Last post 02/06/06 00:28:16
6/07/22 13:17:20 Updater: Invalid response from server. HTTPcode: -4
6/07/22 14:16:57 Updater: Auto-update is current for class MINOR.
6/09/22 19:51:07 influxDB_v1: stopped, Last post 02/06/06 00:28:16
6/09/22 19:52:19 WiFi disconnected.
6/09/22 19:52:27 WiFi connected. SSID=Not Internet, IP=192.168.1.6, channel=9, RSSI -95db
6/09/22 19:53:11 Restart command received.

** Restart **

SD initialized.
6/10/22 00:53:14z Real Time Clock is running. Unix time 1654822394 
6/10/22 00:53:14z Reset reason: Software/System restart
6/10/22 00:53:14z Trace:  1:3, 1:3, 1:3, 1:3, 1:3, 1:3, 1:3, 1:3, 1:3, 1:3, 1:3, 1:3, 1:3, 1:3, 1:3, 1:3, 1:1, 1:2[1], 9:0[1], 9:0, 9:1, 8:4, 8:6, 8:8, 8:9, 9:3, 9:5, 9:9, 1:2, 1:3, 10:2, 10:3
6/10/22 00:53:14z ESP8266 ID: 15840746, RTC PCF8523 (68)
6/10/22 00:53:14z IoTaWatt 5.0, Firmware version 02_07_05
6/10/22 00:53:14z SPIFFS mounted.
6/09/22 19:53:14 Local time zone: -6:00, using DST/BST when in effect.
6/09/22 19:53:14 device name: IotaWatt
6/09/22 19:53:14 HTTP server started
6/09/22 19:53:14 influxDB_v1: Starting, interval:10, url:http://192.168.1.45:8086
6/09/22 19:53:14 influxDB_v2: Starting, interval:10, url:http://192.168.1.45:8087
6/09/22 19:53:14 timeSync: service started.
6/09/22 19:53:14 statService: started.
6/09/22 19:53:14 dataLog: service started.
6/09/22 19:53:14 dataLog: Last log entry 06/09/22 19:53:10
6/09/22 19:53:14 historyLog: service started.
6/09/22 19:53:14 historyLog: Last log entry 06/09/22 19:53:00
6/09/22 19:53:19 WiFi connected. SSID=Not Internet, IP=192.168.1.6, channel=11, RSSI -67db
6/09/22 19:53:19 MDNS responder started for hostname IotaWatt
6/09/22 19:53:19 LLMNR responder started for hostname IotaWatt
6/09/22 19:53:19 Updater: service started. Auto-update class is MINOR
6/09/22 19:53:19 influxDB_v1: stopped, Last post 02/06/06 00:28:16
6/09/22 19:53:19 grid: Started
6/09/22 19:53:19 grid: Last log entry 06/09/22 19:53:10
6/09/22 19:53:20 Updater: Auto-update is current for class MINOR.
6/09/22 19:53:20 influxDB_v2: stopped, Last post 05/30/22 10:56:00
6/09/22 19:55:39 influxDB_v1: stopped, Last post 02/06/06 00:28:16
6/09/22 20:14:48 influxDB_v1: stopped, Last post 02/06/06 00:28:16

Jun  9 20:36:33 server1 influxd-systemd-start.sh[1756195]: [httpd] 192.168.1.6 - iotawatt [09/Jun/2022:20:36:33 -0500] "POST /query HTTP/1.1 {'db': 'iotawatt'}, {'epoch': 's'}, {'q': ' SELECT LAST(value) FROM 9_w '}" 400 81 "-" "-" c2481dfa-e85d-11ec-83ff-9aea7f6c04b2 239
Jun  9 20:36:38 server1 influxd-systemd-start.sh[1756195]: [httpd] 192.168.1.6 - iotawatt [09/Jun/2022:20:36:38 -0500] "POST /query HTTP/1.1 {'db': 'iotawatt'}, {'epoch': 's'}, {'q': ' SELECT LAST(value) FROM 9_w '}" 400 81 "-" "-" c5435e78-e85d-11ec-8406-9aea7f6c04b2 129
Jun  9 20:36:43 server1 influxd-systemd-start.sh[1756195]: [httpd] 192.168.1.6 - iotawatt [09/Jun/2022:20:36:43 -0500] "POST /query HTTP/1.1 {'q': ' SELECT LAST(value) FROM 9_w '}, {'db': 'iotawatt'}, {'epoch': 's'}" 400 81 "-" "-" c83eb89b-e85d-11ec-840d-9aea7f6c04b2 203
Jun  9 20:36:48 server1 influxd-systemd-start.sh[1756195]: [httpd] 192.168.1.6 - iotawatt [09/Jun/2022:20:36:48 -0500] "POST /query HTTP/1.1 {'db': 'iotawatt'}, {'epoch': 's'}, {'q': ' SELECT LAST(value) FROM 9_w '}" 400 81 "-" "-" cb3480e9-e85d-11ec-8412-9aea7f6c04b2 174
Jun  9 20:36:53 server1 influxd-systemd-start.sh[1756195]: [httpd] 192.168.1.6 - iotawatt [09/Jun/2022:20:36:53 -0500] "POST /query HTTP/1.1 {'db': 'iotawatt'}, {'epoch': 's'}, {'q': ' SELECT LAST(value) FROM 9_w '}" 400 81 "-" "-" ce32e291-e85d-11ec-8418-9aea7f6c04b2 146
Jun  9 20:36:58 server1 influxd-systemd-start.sh[1756195]: [httpd] 192.168.1.6 - iotawatt [09/Jun/2022:20:36:58 -0500] "POST /query HTTP/1.1 {'q': ' SELECT LAST(value) FROM 9_w '}, {'db': 'iotawatt'}, {'epoch': 's'}" 400 81 "-" "-" d12df968-e85d-11ec-841d-9aea7f6c04b2 133
Jun  9 20:37:03 server1 influxd-systemd-start.sh[1756195]: [httpd] 192.168.1.6 - iotawatt [09/Jun/2022:20:37:03 -0500] "POST /query HTTP/1.1 {'epoch': 's'}, {'q': ' SELECT LAST(value) FROM 9_w '}, {'db': 'iotawatt'}" 400 81 "-" "-" d428acb7-e85d-11ec-8423-9aea7f6c04b2 215
Jun  9 20:37:08 server1 influxd-systemd-start.sh[1756195]: [httpd] 192.168.1.6 - iotawatt [09/Jun/2022:20:37:08 -0500] "POST /query HTTP/1.1 {'db': 'iotawatt'}, {'epoch': 's'}, {'q': ' SELECT LAST(value) FROM 9_w '}" 400 81 "-" "-" d7241ebb-e85d-11ec-842a-9aea7f6c04b2 122
Jun  9 20:37:13 server1 influxd-systemd-start.sh[1756195]: [httpd] 192.168.1.6 - iotawatt [09/Jun/2022:20:37:13 -0500] "POST /query HTTP/1.1 {'db': 'iotawatt'}, {'epoch': 's'}, {'q': ' SELECT LAST(value) FROM 9_w '}" 400 81 "-" "-" da1fa3b1-e85d-11ec-8430-9aea7f6c04b2 133
Jun  9 20:37:18 server1 influxd-systemd-start.sh[1756195]: [httpd] 192.168.1.6 - iotawatt [09/Jun/2022:20:37:18 -0500] "POST /query HTTP/1.1 {'epoch': 's'}, {'q': ' SELECT LAST(value) FROM 9_w '}, {'db': 'iotawatt'}" 400 81 "-" "-" dd1ad7cf-e85d-11ec-8435-9aea7f6c04b2 154
Jun  9 20:37:23 server1 influxd-systemd-start.sh[1756195]: [httpd] 192.168.1.6 - iotawatt [09/Jun/2022:20:37:23 -0500] "POST /query HTTP/1.1 {'db': 'iotawatt'}, {'epoch': 's'}, {'q': ' SELECT LAST(value) FROM 9_w '}" 400 81 "-" "-" e0120b1f-e85d-11ec-843c-9aea7f6c04b2 130
Jun  9 20:37:28 server1 influxd-systemd-start.sh[1756195]: [httpd] 192.168.1.6 - iotawatt [09/Jun/2022:20:37:28 -0500] "POST /query HTTP/1.1 {'db': 'iotawatt'}, {'epoch': 's'}, {'q': ' SELECT LAST(value) FROM 9_w '}" 400 81 "-" "-" e30ee4e4-e85d-11ec-8441-9aea7f6c04b2 162
Jun  9 20:37:33 server1 influxd-systemd-start.sh[1756195]: [httpd] 192.168.1.6 - iotawatt [09/Jun/2022:20:37:33 -0500] "POST /query HTTP/1.1 {'db': 'iotawatt'}, {'epoch': 's'}, {'q': ' SELECT LAST(value) FROM 9_w '}" 400 81 "-" "-" e60a277a-e85d-11ec-8448-9aea7f6c04b2 240
Jun  9 20:37:38 server1 influxd-systemd-start.sh[1756195]: [httpd] 192.168.1.6 - iotawatt [09/Jun/2022:20:37:38 -0500] "POST /query HTTP/1.1 {'db': 'iotawatt'}, {'epoch': 's'}, {'q': ' SELECT LAST(value) FROM 9_w '}" 400 81 "-" "-" e904ebc0-e85d-11ec-844f-9aea7f6c04b2 180
Jun  9 20:37:43 server1 influxd-systemd-start.sh[1756195]: [httpd] 192.168.1.6 - iotawatt [09/Jun/2022:20:37:43 -0500] "POST /query HTTP/1.1 {'epoch': 's'}, {'q': ' SELECT LAST(value) FROM 9_w '}, {'db': 'iotawatt'}" 400 81 "-" "-" ebfcc331-e85d-11ec-8454-9aea7f6c04b2 123