I've been running my IotaWatt for a few years and exporting the data to Emoncms.
Now I'm about to pack it up for shipment (I sold it; that's a long story).
I want to preserve all the data on the IotaWatt internal storage in some form of database, so I thought exporting to InfluxDB would be ideal.
I've tried to set up the InfluxDBv2 uploader, and it seems to succeed, but it looks like no data is actually getting uploaded. I've installed and configured InfluxDB-2.7.1 on my local host (127.0.0.1:8086).
As a learning exercise, I followed the tutorial for InfluxDB and successfully manually added data to my bucket and graphed it using a query.
Here is a screenshot of the uploader setup: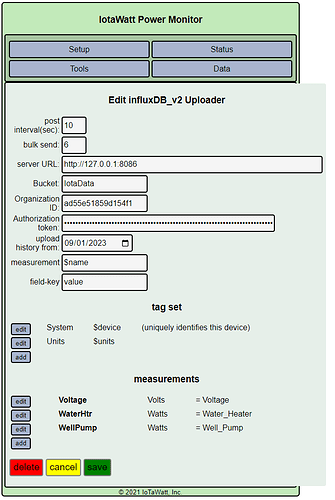 And here is a screenshot of the status screen:
Finally here are the last log entries: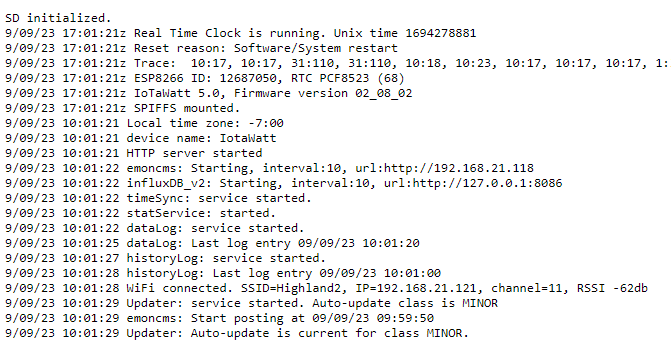 To me it looks like the influxDB_v2 uploader isn't sending data, as the status doesn't show a "Last update" value. I copied and pasted the organization ID and authorization token from the InfluxDB UI, so I think those are correct. Also I set up the bucket "IotaData" in that UI, so it definitely exists. Is there something else I need to take care of in the db setup? Or is it a problem to have the db server be the local machine at 127.0.0.1?