I got my Iotawatt installed yesterday and let it run overnight. I'm wondering about the measurement precision though, specifically on my air conditioner circuit. This may be more of an air conditioner-specific question than an Iotawatt question, but I figured I would start here.
I installed the Iotawatt on my outdoor breaker panel, monitoring 4 circuits – air conditioner (90A breaker), water heater (30A), electric stove (40A), and sub-panel in the garage (90A). All are 240v breakers with two 120v legs. I put the CT around one leg from the breaker, and clicked the box to double each one.
I let it run overnight and got the following usage graph: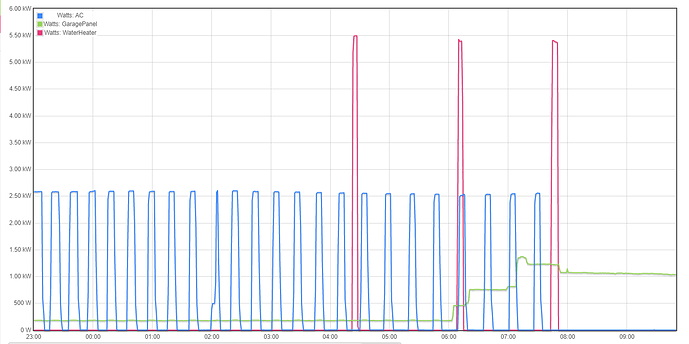 My air conditioner is a 3 ton unit, so I was curious about whether my portable generator would be able to power it. My generator is 7500w, so according to that chart, it should be fine. I know it has a higher startup wattage though, so I'm wondering if that can be measured by Iotawatt. Does the startup wattage last for a shorter period of time than the Iotawatt can measure?
(As an aside, the 2.5 kW that the AC is using is lower than I expected, but the listed wattage on my water heater is 5500 W, so everything seems to be measuring correctly.)