My home is 3 phase installation with a 10kW solar (maxes out at about 7.4kWh due to inverter sizing and grid voltages) and a Tesla Powerwall 2 connected. I'm also part of the Simpy Energy Virtual Power Plant scheme.
I've just finished wiring up the IoTaWatt unit a few days ago. I haven't connected all my CTs yet due to switchboard space and cable extensions needed. I have got 3 CTs on my consumer mains though - before the meter, after the meter isolator - with reference VTs for each phase. I've noticed something interesting in my phase power consumptions: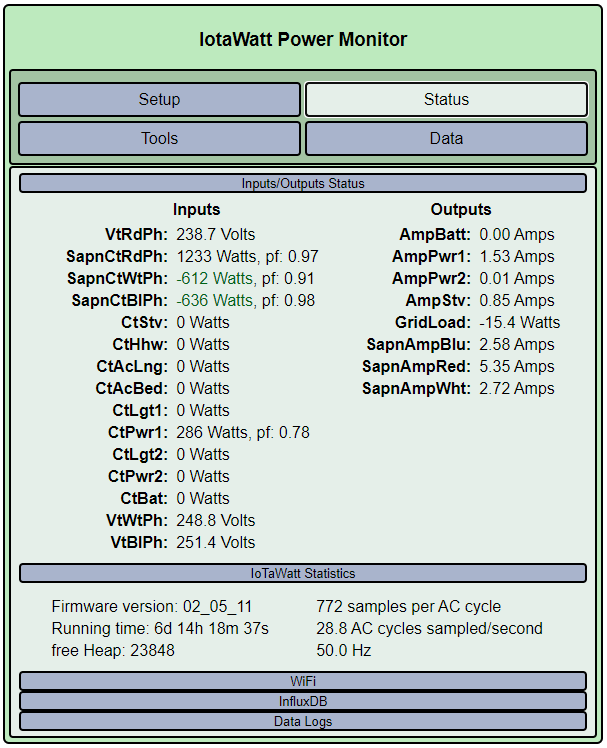 When I have net output of zero to the grid, one of the phases seems to account for the feed in for the other two phases - I can only assume this is to do with "balancing" the phases?
Once the battery is full up and we start exporting to the grid, they all go negative and match what the Tesla app and my solar analytics say (give or take a few hundred Watts):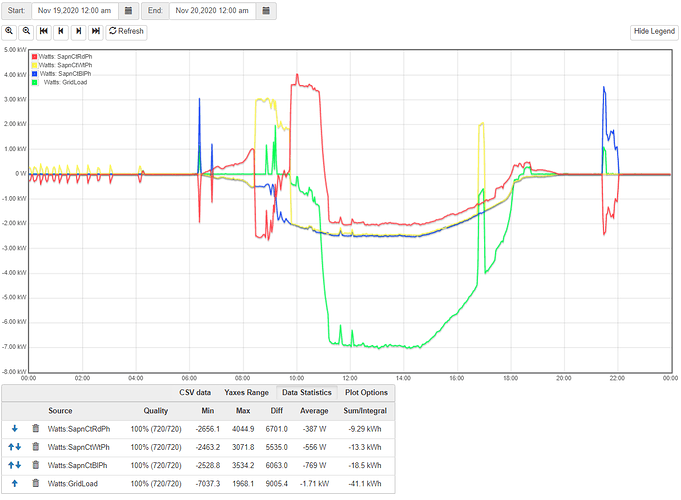 Has anyone else got a similar set up to mine? Wondering if this is the norm. It'll be interesting to see what happens when I finally get around to putting a CT on the battery line and a few other circuits.
FWIW - very happy with product so far. Have integrated it into Home Assistant via the REST sensor available on the Home Assistant forums and also pushing data to the InfluxDB running on HA for ease of Grafana graphs.