Hello folks,
EDIT - The Neutral from the mains were not connected to the panel, causing the voltage to fluctuate. Thankfully I was able to identify before anything was really connected to the panel. Once this issue is corrected, I'll measure the voltages again and setup the IotaWatt to test it again.
– Original for historical purposes –
I finally have the panel installed in my new place in Brazil, following up from this post.
With the panel in place and the mais connected, I am measuring ~240+v phase-phase (which should be 220v), and 148v neutral-phase (should be 127v). This is roughly the same across all 3 phases, and 3 phases to neutral.
With this setup, the JW-95001-NA VT is giving me a 13.5v measured with a voltmeter. Is this too high of a voltage for the IoTaWatt unit to support?
I'm reaching out to the utility company to check on the voltage, but I suspect I might have to be prepared for this voltage fluctuation to be present in the system (+10% on Phase-phase) unfortunately.
For context, here is the schematic of the system once completed. The solar system is single-phase, but connected at 220v phase-phase on the R,S,T phases as R-S, T-S.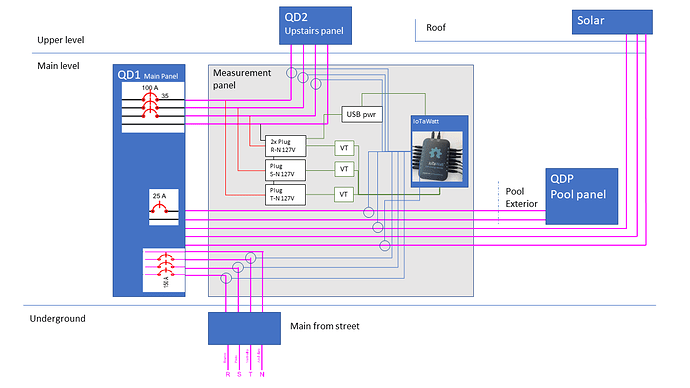 Thanks