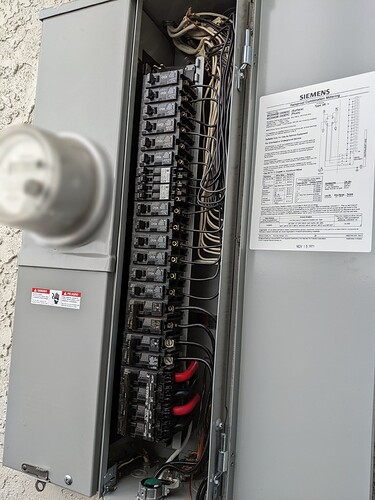 I've got a couple questions:
The photo above is my US / North America home service panel. It has 2 pairs of wires coming from the utility meter side connected to the bottom 4 circuit breaker positions. To properly deploy the IotaWatt, do I just clamp 2 CTs on the bottom 2 wires and configure IotaWatt to double up the numbers when logging data?

To safely install the CTs, I should make sure the CT clamps are plugged into the IotaWatt before so that I'm protected by the burden resistors, which are in the Iotawatt device itself?

I bought a 6x6x3.5 IP67 junction box to house the IotaWatt along the exterior of my home right next to the service panel. Do you think this'll be big enough? I'm thinking about soldering wires + XT60 connectors + shrink wrap for the 5v DC adapter and the 9v AC ref transformer adapter to bypass the need of installing an outlet. Do you have any suggestions on space saving techniques? or should i just go with a bigger junction box and have an outlet installed inside it?