Got an IoTaWatt a few weeks ago and am super impressed with the hardware, software, and community behind it. For my install, I added a 2" conduit in the bottom right of my breaker box to poke through the other side of the wall which is in a closet. I added an Orbit sprinkler box with the cheap GFCI outlet swapped for a normal decorator duplex outlet. Makes for quite the tidy install.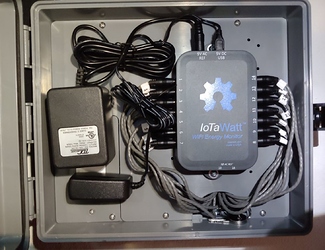 I purchased enough CTs to use all the channels. Currently monitoring both mains, solar backfeed (top left breaker), a subpanel to a shop (top right breaker), and various high-use applicances and rooms. I see several people using one CT to monitor solar - however I have a neutral on my backfeed and am using two CTs in case the legs are uneven, but I've never seen them vary by more than a few watts. Maybe I can repurpose one of those CTs somewhere else.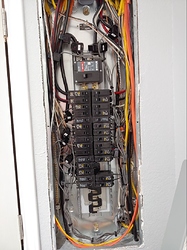 I have generation, consumption, and voltage uploading to PVOutput.org. Hope to set up emoncms on a local pi soon.


I plan on using this to monitor overall usage and see where I can shift that usage into the solar generation time since our net metering only pays for exported power at about half the rate of inported power.