Hello,
Thank you for making available this monitoring solution. Works great. It would be great if somebody could help me interpret the following correctly.
See screenshot below…
When solar is distributed over the 3 phases, it seems that in the morning and the evenings some phases are cut of providing back to the grid…
In this example. 1 phase is still delivering to the grid (main_B) , and two are not (Main_A and Main_C). Am i actually importing electricity on those phases? Trying to understand what is behind, as in Belgium they will soon charge differently and i am trying to improve the consumption of my own production. Thanks for any insight.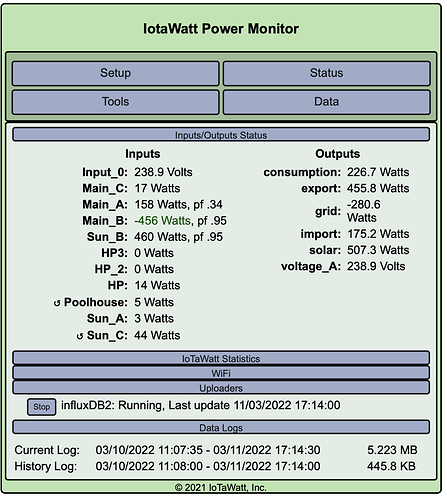 Bonus question: Enable derived three-phase, (which i did), what is the general error margin for such a system given 3 phases in combination with solar…