Very excited about this piece of hard/software that arrived today, but can't seem to get started.
Quick facts:
New IoTaWatt system with 2x AcuCT-H063-100 and a JW-95001-NA (+ provided USB adapter) plus a bunch of other CTs still in the box.
Live in a standard US apartment with split 110/220v power, nothing special
Engineer with decent EE understanding and previous experience with horrible (accurate but unreliable) z-wave energy monitors.
Problem:
1 CT is constantly under-reporting by a lot - it states constant 10-20W when each phase is usually over 100w at least
If I turn on the garbage disposal (which feeds from the "faulty" phase), it constantly displays <250W (it's a 3/4hp motor). My electric kettle measures just about right 1600W with the "good" phase, but <1200W with the "faulty", so it doesn't seem like a linear issue.
If I swap the CTs, the "faulty" CT will bring the problems over, so the affected phase will suffer now
Now here's where it gets interesting: if I connect both CTs to the same phase, they display +/-10W!
The whole this is obviously under-reporting (main1 + main2 don't even add up to my 3d printer measured outlet).
Attempted troubleshooting
Read, re-read and re-re-read the CT's model numbers against my configuration
Squeezed the CT tightly with no change
Physically and virtually reversed both clamps
Was ignored about my huge issue by my spouse
Thanks in advance. I have also provided a pic from my setup and config. Order #127095 (July 18, 2022), if it makes a difference.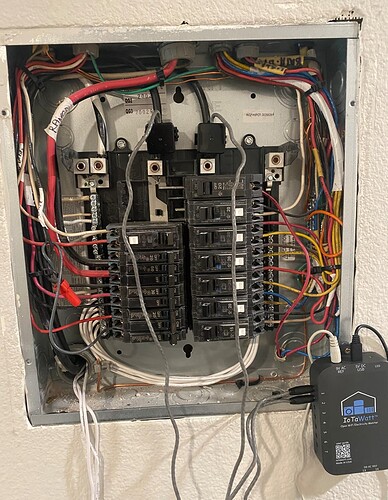 {
	"format": 2,
	"timezone": "-8",
	"update": "MINOR",
	"device": {
		"name": "IWSL",
		"version": 3,
		"channels": "15",
		"burden": [
			0,
			20,
			20,
			20,
			20,
			20,
			20,
			20,
			20,
			20,
			20,
			20,
			20,
			20,
			20
		]
	},
	"inputs": [
		{
			"channel": 0,
			"name": "Input_0",
			"type": "VT",
			"model": "JW-95001-NA",
			"cal": 11.14,
			"phase": 0.74
		},
		{
			"channel": 1,
			"name": "main_1",
			"type": "CT",
			"model": "AcuCT-H063-100",
			"phase": 0.6,
			"turns": 2000,
			"cal": 100
		},
		{
			"channel": 2,
			"name": "main_2",
			"type": "CT",
			"model": "AcuCT-H063-100",
			"phase": 0.6,
			"turns": 2000,
			"cal": "100.0"
		},
		null,
		null,
		null,
		null,
		null,
		null,
		null,
		null,
		null,
		null,
		null,
		null
	],
	"outputs": [
		{
			"name": "main_total",
			"units": "Watts",
			"script": "@1+@2"
		}
	],
	"dstrule": {
		"adj": 60,
		"utc": false,
		"begin": {
			"month": 3,
			"weekday": 1,
			"instance": 2,
			"time": 120
		},
		"end": {
			"month": 11,
			"weekday": 1,
			"instance": 1,
			"time": 120
		}
	}
}