I was looking at some stuff and noticed an odd spike in my "MISC" power use…which I think is correlating with my hot water heater. I don't know why.
I tried making another "output" that is type "amps" and now I am even more confused with the mismatch of watts vs amps.
MISC power should be "everything I didn't explicitly measure with a CT in the panel", that is, "total main power - total known usage".
I am reasonably confident that the ~1.1kW consumption is an accurate number for the MISC other circuits. I don't understand why when I graph or output "amps" the water heater and other big 240V consumption seems to be not properly accounted for?
It looks like this may also be not accounted for properly with other large devices (e.g. stove).
Its almost like it doesn't account for "2x" multiplier on CTs in the AMPS-mode, but does correct for it in WATTS-mode?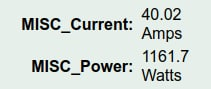 (worse with more on?!)