Hello,
First I'd like to say the IoTaWatt is freaking awesome!!! I've been waiting for an opensource solution for a decade. Thank you for creating something that doesn't report all my usage to a cloud provider and leave me with a cheezy mobile app.
I definitely want to install a system, but my house is a strange configuration and I'm wondering the best way to set everything up.
My meter is on a pole outside (~15ft. from the house). The "main" panel (outside) contains a well pump and generator (input). I plan to also add a sub-panel in the outside panel for a detached garage (which I'd also like to monitor).
The outdoor panel then feeds the house where there is another "main" panel with the (22) inside circuits.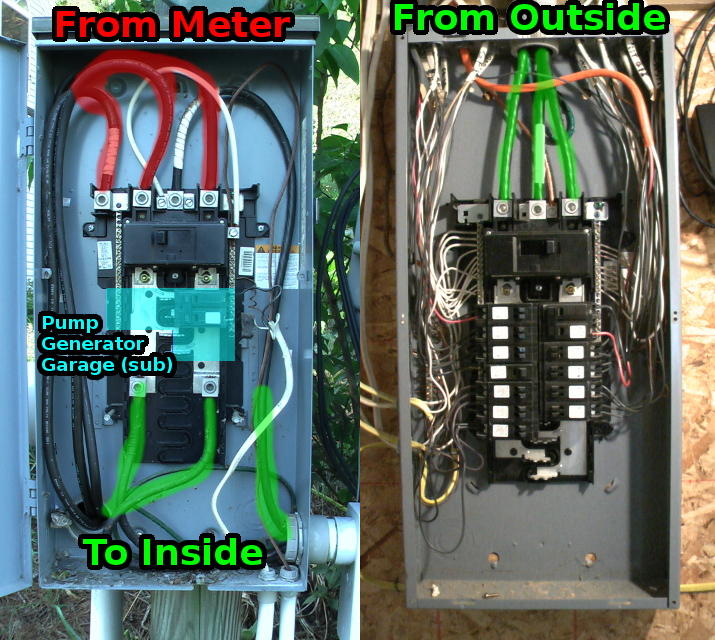 If I add an IoTaWatt inside the house, I won't be able to monitor the "true mains", well pump, generator, or future garage current.
If I mount it outside, I won't be able to monitor the (22) circuits inside the house.
Does anyone have ideas how I can monitor circuits from both panels (hopefully with minimal hardware)?
Can CT sensors be ~30 feet from the IoTaWatt through conduit with high voltage cables? i.e. Mount an IoTaWatt inside & run 5 CT's outside for the "true mains", well pump, generator, & garage circuits.
Or do I need a unit outside (EmonTX?) and a separate unit inside (IoTaWatt)?
Side question… If I have 22 circuits and 14 CTs, can I double up seldom used circuits (basement, attic, etc.) by running both wires through the same CT?
Thanks.