Sorry, another request for help getting IotaWatt data into an emoncms server …
I helped a friend get his IotaWatt setup today and it works fine in his house. We want to send his data to my emoncms server running at my house but I'm not seeing it show up as an Input. I use Dataplicity make my emonserver accessible outside my local network, so I set up the emoncms service as shown here: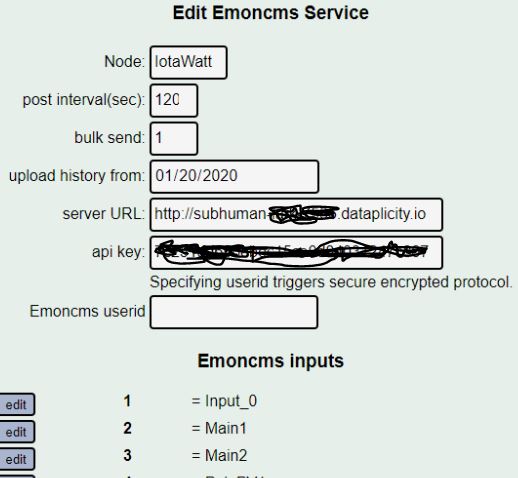 Note I use http not https, and I do not specify a port. My emoncms server is working fine - it's currently receiving data from a bunch of other devices. The Emoncms log does not show any indication of an IotaWatt input stream (i.e., no authentification errors). I'm quite certain I'm using the correct emoncms API Read/Write key.
He restarted the IotaWatt after saving the web server edits. Still no Inputs showing up in my emoncms server. His IotaWatt log shows this - note the :80 port is specified here:


Any suggestions? Thank you!