My IotaWatt is installed, configured and works. It is installed at the extreme edge of my home network ("Legoland") therefore it only works intermittently. RSSI is between -85 and -90.
I installed a GL-iNet (Mango) router between the home network router and the IotaWatt. When the IotaWatt is connected to the Mango network it can be accessed by my phone or laptop if they are also connected to the Mango network. If the phone or laptop are connected to the home network (Legoland) they can not connect to the IotaWatt. I tried using the Mango network name in the iotawatt address (HTTP://GL_MT300M-V2-36e/IOTAWATT.LOCAL), but I get a "This site can't be reached" error.
Below are configurations from the IotaWatt status display when connected to Legoland and to the GL-iNet networks.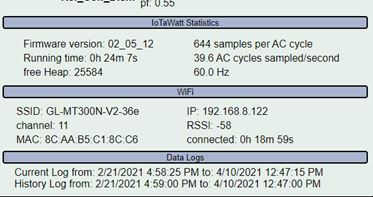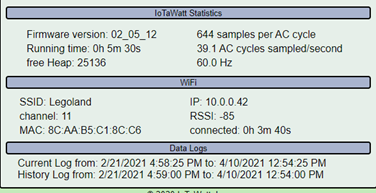 I can provide data logs if that would help.
What additional configuration do I need to do to be able to see the IotaWatt on my home network?
Thanks for any ideas.