@overeasy wondering your thoughts on the issue with power values after I made the one addition of my home battery to the PVOutput equation for consumption; see image below. I'm wondering if there is some negative issues or other math but I would think consumption is consumption no mater the number of loads, etc. Once I added the battery to the PVOutput consumption my "Energy Used" kWh went from being normal to 227. I thought it might be a calculation issue on their end so I did a re-upload of today's data and now it has me at that high usage starting at midnight and going though the day. Just wondering your ideas, I can also take this up with the team at PVOutput (making sure I'm not missing something obvious. I can set it back and re-upload again, but any ideas?
Here you can see the high usage from the start after doing a re-upload.


This simply shows after the re-upload I can see it starting at midnight and going the whole day.

When I first made the change I saw this in my logs in PVOutput

My setting look like this in the WebServer PVOutput config. with a focus on "Consumption" I did add two extended values but I'm assuming these do not matter to that calculation.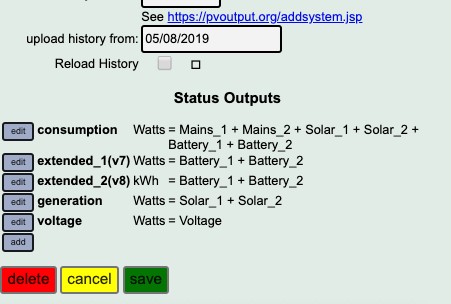 If I remove the Battery and re-upload I get back to a somewhat normal looking screen.