Hello Bob,
A couple of times, may be more in the last few weeks, the upload to PVoutput has stopped. Looking at the log, which I've PM'd to you, there are a few entries like this:
6/11/19 01:01:08z PVoutput: Transaction Rate-Limit exceeded. Waiting until 02:100:
and this:
6/21/19 08:41:02z timesync: Kiss-o'-Death, code RATE, ip: 83.137.225.103
The last PVoutput entry was at 0450 on 27 June 19.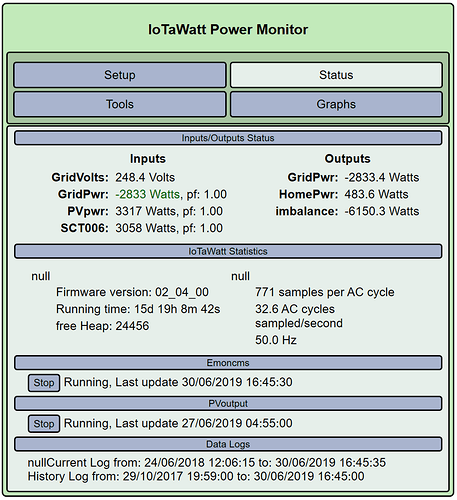 I'd be grateful if you could take a look at the log please.
I was one of the early buyers, via OEM, some twenty months ago and haven't really had any issues until this one. My current IoTaWatt installation is fairly minimalistic but I plan to change that later in the year.
Let me know if you require any further information.
I look forward to hearing from you.
Thanks,
Steve