So I got my 2nd IotaWatt for my PV setup. My PV is fed just after the meter and breaker on the front of the house so I needed a 2nd IotaWatt to capture this info, also my first IotaWatt is used up (no empty CT inputs).
Anyway, I am getting PVOutput setup and I guess I selected to far in the past (prior to the unit power on and setup) and now my PVOutput is stuck. A picture being worth a 1000 words.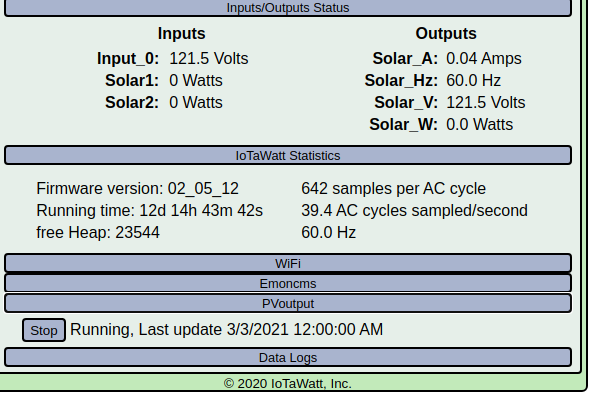 Also, here is the message log.
2/25/21 17:38:46 Updater: Auto-update is current for class MINOR.
2/25/21 18:30:44 EmonService: started. url=HTTP://192.168.1.24/emoncms, node=IotaWatt_Solar, interval=5
2/25/21 18:30:46 EmonService: Node doesn't yet exist.
2/25/21 18:30:46 EmonService: Start posting at 02/25/21 18:30:50
3/10/21 08:07:40 PVoutput: started
3/10/21 08:07:40 PVoutput: System Jeremy Hill Power, interval 5, freeload mode
3/10/21 08:07:41 PVoutput: Start status beginning 03/03/21 00:05:00
3/10/21 08:07:43 PVoutput: Unrecognized HTTP completion, upload Bad request 400: Invalid data format [20
Is there any way to edit the config and force it to reset? I tried deleting the PVOutput and setting it back up, but it went right back to that and the log seem to indicate it's stuck.