I have just completed a new install of my IoTaWatt (Thanks @overeasy!). I did have a few questions based on the initial setup and data. Just making sure that my initial thoughts and troubleshooting is correct. I do not yet have the mains installed, only two sub panels (garage and barn) and a few 240v and a couple 120v circuits.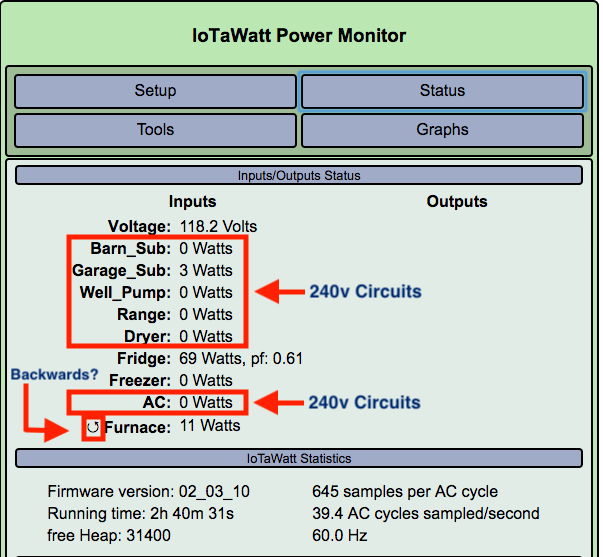 The easy question which seems easy to start with is the reverse/backwards icon, I assume this is a CT installed backwards due to the indicator. Do I simply reverse the CT and all should be good? This is a 120v circuit.
I was wondering the best way to troubleshoot the 240v circuits marked in the image above. Do I take for example the Dryer and double the volts or watts in the Output to get the actual value? I did have a look here: LINK: https://github.com/boblemaire/IoTaWatt/wiki/Configuring-Output-Channels where it says
"You can measure some (US) 240volt circuits with a single CT on one of the conductors, then create an output that multiplies that value by 2 to get the true watts."
Just not sure which to double as in some cases (Range and Dryer) I'm seeing very high wattages as they are currently configured via a single CT. Can someone point me to some other details or help for a beginner to allow me to walk through various scenarios to ensure I'm monitoring the correct items?
The Garage sub panel I'm seeing activity with the Garage Doors, etc. But I see nothing from the Barn placing the 100amp CT on the red (the wires are too large for a single CT to have both enclosed. Maybe this one will require monitoring with two CTs?
Thanks for all the great support here guys.