Hi everyone,
before I start I want to mention that this post is a copy of my post in the openenergymonitor forum that can be found here. I am not a fan of cross posting but a user there mentioned I should try it in this forum as the chances are higher of getting help. If this is not OK please let me know or delete this post!
I am quite new to the topic of energy monitoring. I bought an IotaWatt and some SCT013 and SCT006. My plan is to use the SCT013 to measure the main leads coming into the distribution board and use the SCT006 for additional per-room measurements. I was now playing around with the stuff I got and was little confused about the readings I get.
I hooked up a hot air gun into a power meter, and measured the current on the lead using one SCT013 and two SCT006. I noticed, that the power readings of the two different CTs differ significantly as you can see in the following screenshot: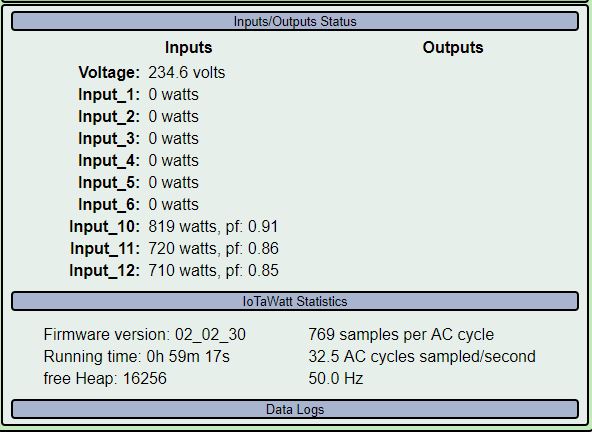 The measurement of the SCT013 seems to be spot on (less than 1% difference compared to the power meter), but the readings of both SCT006 are really bad. Additionally they differ significantly each to another. The readings you see in the screenshots where made by additionally pressing them shut, without that, the gap between them is even worse.
The power factor reported by the SCT013 is spot on to that measured by the power meter, but again the SCT006 show significant differences.
What could be the problem here? Is this the expected accuracy of the SCT006? (I hope not, I ordered a bunch of them xD…). Is there anything I can do to improve the accuracy of these CTs?
Thanks and Regards,
Jan