Just got my IoTaWatt in and I'm super excited to wire it up. I was hoping you fine folks to could look over my plan and make sure I'm doing it right (United States residential service). Here is a picture of my load center: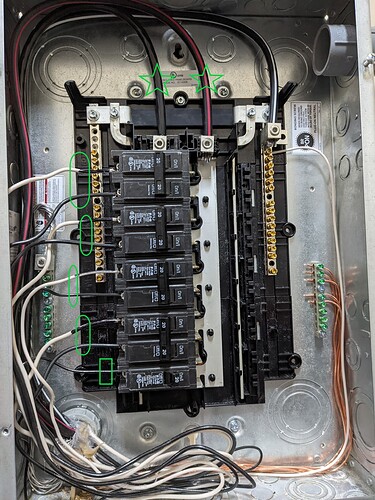 This is a subpanel fed from a 100amp breaker from my main box. I plan to:
Install a 100amp CT on each of the "mains" coming into the box marked with a green star
Install a 50amp CT on each of the pair of wires marked with a green oval. These circuits are each 20amp 240 volt circuits and I want to ensure I measure the power as accurately as possible so not looking to measure one and double it. Do I need to twist things around so that one wire is being measured in the opposite direction or am I ok to just clamp them as circled?
The bottom square circuit is a simple 20amp 120v so I just need to slap my remaining 50amp CT on that single wire.
I'm happy to answer any questions to clairify but this all seems pretty straight forward with the exception of ensuring I measure the 240v circuits properly. Thanks in advance for all feedback!