I'm about to purchase some additional current transformers.
I already have SCT013 100A:50mA and SCT060 20A:25mA CTs and appreciate that the SCT010 isn't in the Input | Model drop-down list. I realise the drop down has a generic position too.
My IoTaWatt has 24R burden resistors.
SCT010 is available in 50A:25mA (1:2000) & 50mA (1:1000) - which should I buy? I am assuming the 25mA version but wish to be certain.
The 50A CTs will be on smaller circuits and where distribution board space is limited.
If selecting 'generic' are the 'Phase lead' angles what YHDC refer to in this table as 'phase difference'?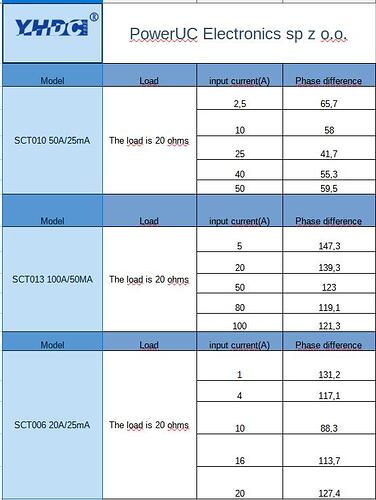 Apologies as ever if this topic and answers are well-covered in this or other forums.
I'd buy from Bob if I was in the US but I'm in the UK.
Thanks,
Steve