I'm looking to confirm what is I need to order to set up a system in a single-family residence.
I'm in the US, operating 120V.
A 200A main panel feeds numerous sub-panels, including the generator backup panel right next to it on the left (see photo).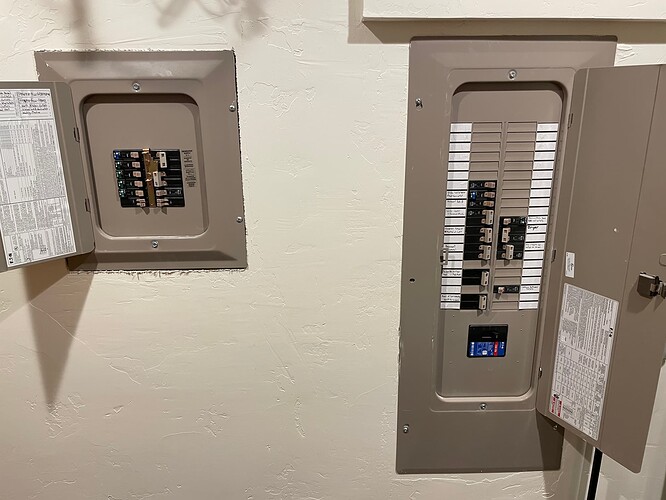 I'm thinking of mounting the IoTaWatt on the wall right between them and running in the CT wires from both panels. I've made a list (in order of priority) of the circuits I want to track, which I'll list below. Now I need to know how many of them I can really monitor with a single IoTa unit, and what CTs I need to order.
Here's a photo inside the main panel: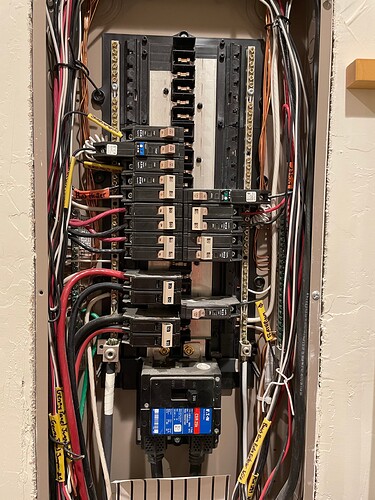 And here's one inside the generator backup sub-panel: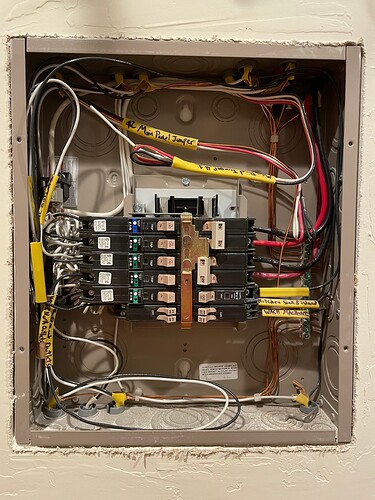 Here's the list of what I want to track, in order:
200 Amp service in (2 wires), pictured at bottom of the larger panel photo
90 Amp 2-pole to outbuilding subpanel
125 Amp 2-pole to electric boiler. (device can only draw 89.3A, but requires 125A breaker)
30 Amp 2-pole Water heater
30 amp 2-pole Dryer
20A 1-pole to fridge and hood vent
20A 1-pole to insta-hot water
60A 2-pole to basement sub-panel
15A 1-pole for lighting
other single poles that are non-essential, but I'd track if there's space.
Also, I don't know if this changes anything about the design, but my actual electrical service is 400A, but the other half is going to a barn and cabin. So my electrical meter and bill will not match the 200A usage that I'll be measuring at my house.
What would be helpful to me is to end up with a purchase list, plus any install notes that are beyond general info that would come with the kit – specific to my configuration.
Thanks for your attention!