Hello! IoTaWatt looks amazing and comes highly recommended from some friends. I've been planning out my install, and then as I was about to order, realized that I live in a US high-rise condo where half the building is commercial and my mains supply is 208V over 3 wires (including neutral, 200A capacity), not a traditional split-phase system. This threw me for a loop, and I've since read a bunch of posts on this forum on how to deal with that, but want to make sure I fully understand what I'm talking about here. First, here's a picture of my panel: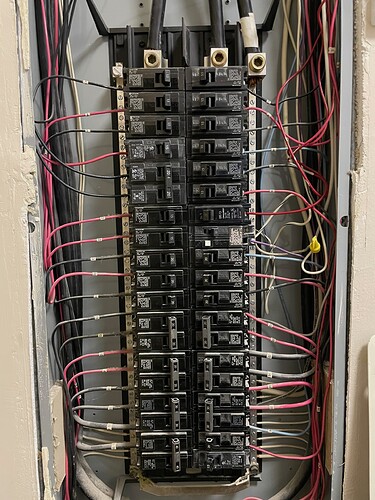 In order to wire this panel up with IoTaWatt, I believe I would need to do the following:
Connect 2x 200A CT to mains
Connect VREF plug to outlet. This will be on sub-circuit 3 in row 2. This must be phase A.
Connect hairdryer (or similar) to same circuit and measure increase in usage.
Measure hairdryer on a circuit in a different row. If increase in electrical usage matches phase A, it's phase B. If lower, it's phase C. Let's assume C for rest of this post.
My panel wiring does not appear to be reliably color coded, but rows in circuit panel should be alternating, so if row 1 is phase C, row 2 is phase A, row 3 is row C, row 4 is phase A, etc…, correct?
With that knowledge I can add CT's to any sub-circuit and combine probes with a splitter to a single port as long as they are on the same phase.
For higher voltage circuits that span 2 rows, I have to use 2 ports assigned to their respective phases (unless they are a pure 208V circuit, in which case 1 probe should be enough. It's unclear to me to know which ones are 3 wire vs 2 wire, since the neutral wires aren't paired together, but worst case I can assume I need 2 probes for all 208V circuits)
I obviously can't measure all sub-circuits from a single IoTaWatt. If I get 2, does the 2nd one need to measure mains as well to be able to derive the third phase, or can all 14 ports be used for sub-circuits?
Is this correct or do I have large gaps in my understanding?
Thanks so much for the help! Excited to get this all working hopefully.