I have a standard North American 100 amp 240v split phase service. I have installed these two 100 amp AcuCT-H063-100 CTs on the two phases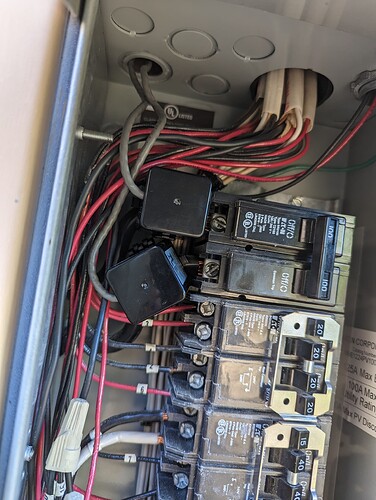 I have a couple of unexpected things showing up in IotaWatt now:
Mains_1 shows it should be reversed (and indeed shows negative Watt values when it is not), despite clearly being installed in the same orientation as Mains_2. Mains_2 reports correctly without being reversed. Is it possible one of these CTs is labeled incorrectly?

From the image below, I see the car charger jump to 16 amps, (which I expect), but I also see both Mains_1 and Mains_2 jump by 16 amps, so when I total the usage it shows as if the car charger is using 32 amps, despite both the car, and the CT monitor on the car charger reporting 16 amps.



Is it expected that the total would be 32 amps when the car charger is drawing 16 amps for some reason that I'm missing? Or are my mains CTs somehow reporting incorrectly? Or something else I'm missing?
More context on my use case:
My goal is to replace all my gas appliances with Electric appliances, but with 100 amp service, I'm pushing the boundaries. I want to use data from IotaWatt fed into Home Assistant to enable load shedding - for example if the total usage is above 70 amps, disable the car charger, turn off the AC, turn off the water heater, etc. However, with the car charger usage showing double I'm concerned about the viability of this plan.