Curious on how others have mounted their IoTaWatt units outside of the panel and are the CT connectors with the 1.5m (~5') extended cables (from @overeasy) enough to reach outside of the panel from nearly all circuits without issue?
I have seen a YouTube video showing a small conduit on the side of the panel leading to another plastic box for the unit to sit in; with power. I'm wondering if it is better to mount the external box below the panel (if able) so that all the CT wires will drop to the bottom of the panel having more equal amounts of length when they come together. So, the mains up top would be the farthest reach to the bottom. I just assume that putting the external conduit on one side, the CTs for circuits on the other side need to wrap around before getting access to the conduit. Thoughts?
I see two options of mounting the external unit either right or left of the panel, or bottom of the panel; as the mains are at the top. I'm wondering if the ~5ft of cable allow reaching the device whether mounted on side or bottom of the panel.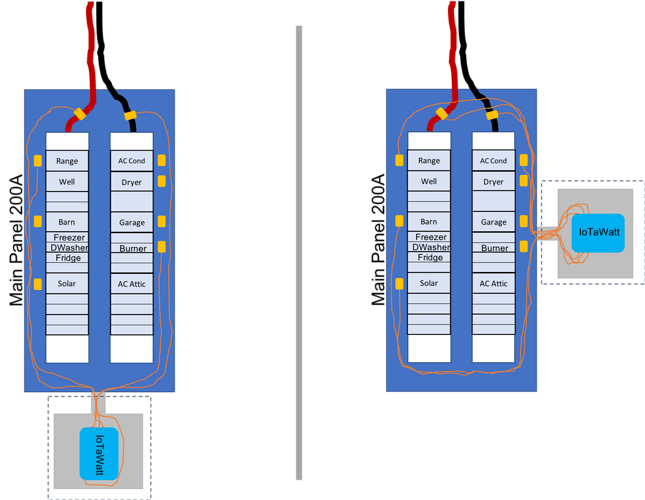 Something like the dotted section at the bottom of the main panel: