In Australia it is common for houses to have two metered electricity rates: one 'full tariff' for normal household power and lights, and one 'controlled load' for off-peak hot-water heaters (tanks). When a smart meter is installed (as always happens when you get solar PV Installed), these houses will get a 2-line smart meter to measure both these supplies, the 'main' leg recording energy separately for both directions (import/export), since the buy and sell tariffs are different.
To keep track of energy usage with IoTaWatt (or similar), three CTs are sufficient: one on the meter's 'main' output (I label it 'Main'), one on the meter's 'controlled' output ('HWS'), and one on the solar inverter's output ('Inverter'). Between these three you can see how much energy you are generating and how much you are consuming.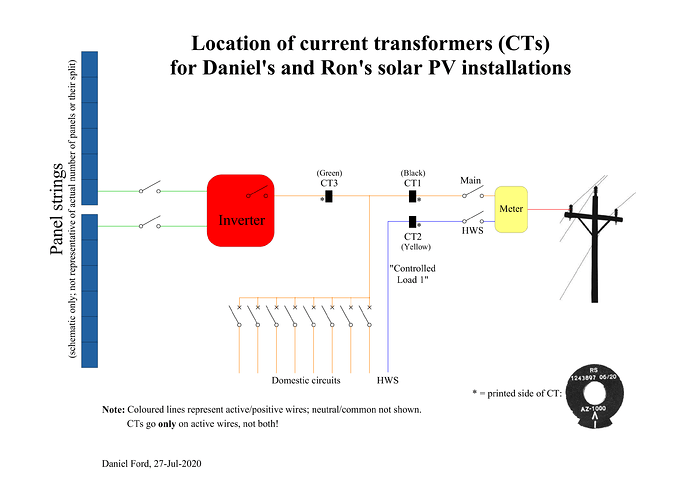 But in terms of my monthly bills, what I'm consuming in my home is not of primary interest. What is of interest is how much of that energy I'm buying from the retailer, and how much am I exporting to the grid and being paid for! While I can see that (visually) on the graphs (see example below), I can't create outputs for those two quantities.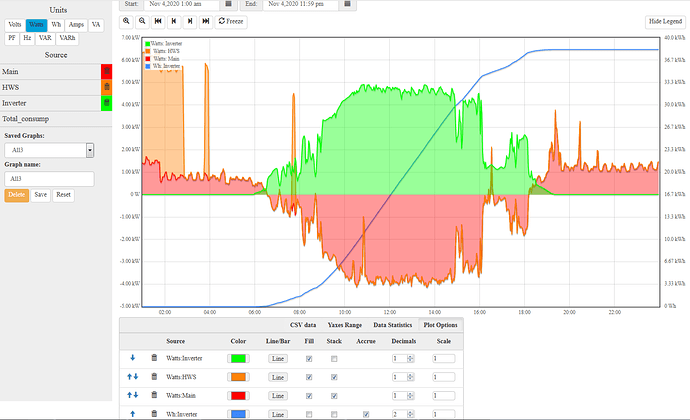 So my request, if it can be added reasonably easily, is for the Outputs 'calculator' to include a provision for 'conditional' outputs to be created. Just how that is done is unimportant, but for the programmers amongst us, the C coding method shown below would suffice, and require only four additional keypad characters (the brackets are not needed, and the 'if' could also be omitted since the 'calculator' knows what is intended, from the question-mark):
Import (from grid): (if Main > 0) ? Main : 0
Export (to grid): (if Main < 0) ? Main : 0
Anyone up to the challenge?