Hi:
I guess it depends on the complexity of the expressions entered in the calculator, but I would like to know if there's any reasonable limit for the number of outputs that can be defined. This what I have now. This is the mains breaker box. I still would like to add total amps and watts, which is the sum of the 3 circuits, so it would include the expression:
(AiresFAh x 8.245) + (AiresFBh x 7.78) + (AiresFCh x 8.94) + (CFEFAh x 2.0253) + (CFEFBh x 1.7127) + (CFEFCh x 1.7022) + ModFA + ModFB + ModFC
Maybe it's better to simply add wCFE, wAires and wMod at the Grafana query.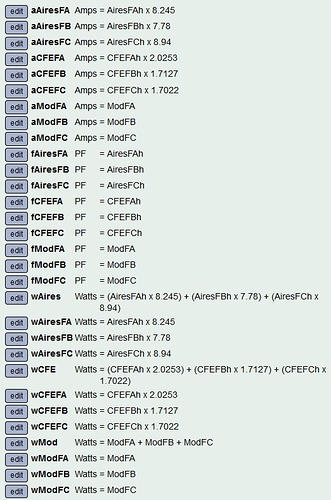 Additional question:
A phase of one of the circuits is missing the PF status at the inputs (although it is being shown as an output). Any ideas?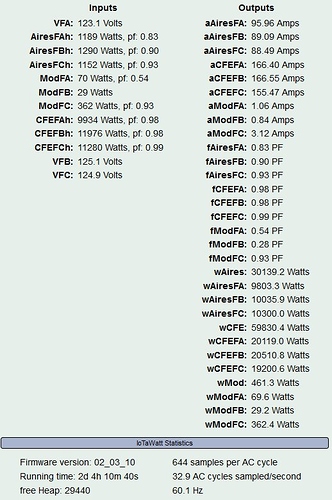 The constant factors are used because we're measuring circuits that have several conductors per phase (in parallel) and we're measuring only one conductor of each phase. BTW, we're now using the 3-phase voltage sensing in direct mode.
Thanks!!!