I would like to share my custom-modified Iotawatt with temperature monitoring (4 probes). I really like the IotaWatt - thanks for making it so easy to modify.
I want to be able to monitor my air conditioners.
@TomH added temperature monitoring to an unmodified IotaWatt using platinum RTDs. I wanted to try using DS18B20 temperature sensors as you can add many of them as you like to one port. I made some small hardware modifications that still look good in the original IotaWatt case.
I modified two 3.5mm ports (13 and 14) on my IotaWatt V5.0 to connect to the NodeMCU D3 and D4 instead of the ADC (cutting a few traces and adding a few wires). The three phase AC ref ports 13,14 should still work, but I have not tested them.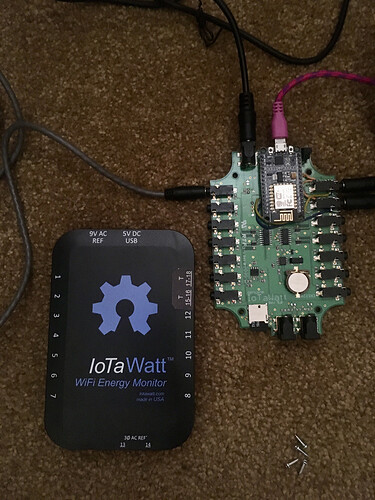 Here is where I added wires and cut the existing traces to a V5.0 IotaWatt board.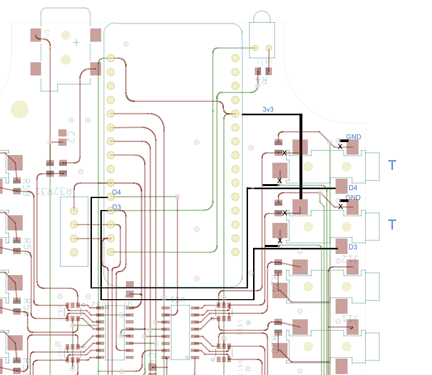 I modified the source code to add a temperatureService, degC unit, and communicate with 2 temperatures sensors per port on ports 13 and 14.
I purchased some 10ft DB18b20 temperatures sensors with 3.5mm jacks and connected two together using an audio y-splitter and connected them to the IotaWatt. The temperature code looks for 0, 1 or 2 temperature sensors on each of the two modified ports 13 and 14. Apparently you can go up to 60m of wire with these temperature sensors.
Here is an example Graph+ screen with two of the four temperature sensors in use.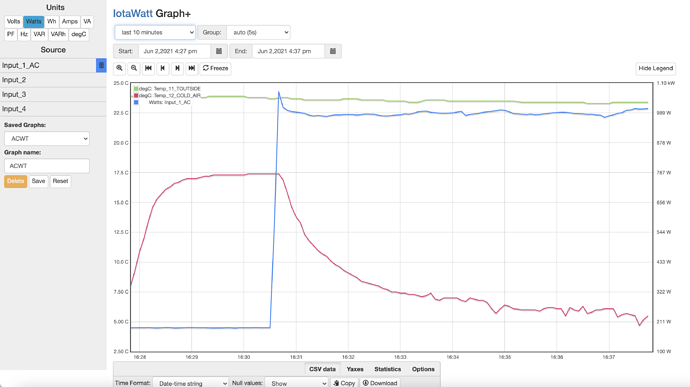 It is a lot of fun to work with the IotaWatt, thank you!