I'm based in Australia…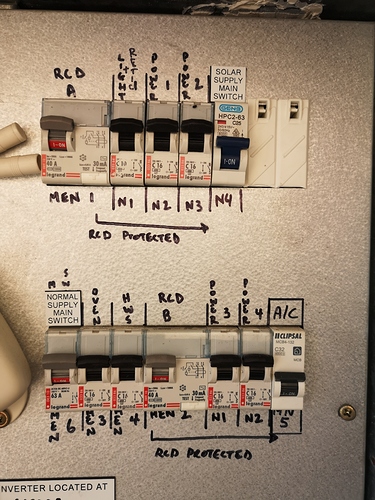 Hoping to get some advise as to how many and what CT's to buy. Was looking at 2x50A ones to go to the RCD's (not sure if this will work), and 50s for solar, oven and A/C. and 1x100 for the main switch.
the 10mm opening on the 50A has me concerned, as that seems very narrow?
Current situation is:
RCD A (40A): 1x Lights (10A), 2x Power (16A each)
1 x Solar Supply (25A)
1x Oven (16A)
RCD B (40A) : 2x Power (16A each)
1x A/C (32A)
Main Switch (63A)
I'd like to monitor Solar (already getting this data off Fronius wifi but may as well get another source), A/C and pretty much everything else can go into one bucket. Can they be hooked up off the RCD's?
I have a double outdoor power point just outside of the meter box that currently powers my retic. I am hoping to use this to power my iotawatt. I'm hoping a sparky can put a hole on the side of the meterbox (Bottom has a gas meter so not an option), with some ducting and glands etc. to a separate enclosure that will house my iotawatt. The CT's will be run via the duct into the meterbox.
So i'm hoping to find an enclosure big enough to encase the outdoor powerpoint and AC adapter, as i'm guessing I can't just plug the AC adapter into the powerpoint and expose it to the elements? or is this a non issue?
Would be good to see other people's set ups so that I can make sure I have all the products ready for the sparky to do the install.